As the world grapples with multiple climate crises including floods, droughts and heatwaves, Energy Ministers of G20 countries gathered in Goa, India on Saturday, July 22, 2023, for Energy Transitions Ministers meeting. However, the ministers were unable to decide on any outcome or plans to phase out fossil fuels equitably at a time when setting ambitious phase out strategies observers beleive should be a top priority for countries.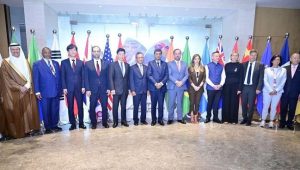 There was reportedly no Communiqué at the end of the meeting and, instead, ministers agreed to a outcome document that seemed to highlight the need to continue using fossil fuels and pushing for vague solutions instead of "real climate action".
The document, it was gathered, emphasised how "fossil fuels currently continue to play a significant role in the global energy mix, eradication of energy poverty", while some governments highlighted "the importance of making efforts towards phase down of unabated fossil fuels, in line with different national circumstances." Others had different views, "that abatement and removal technologies will address such concerns."
The science is clear that fossil fuels are not the way forward when they have been responsible for 86% of CO2 emissions in the last decade. Evidence shows that continued use of fossil fuels is a major driver of climate change, leading to severe and irreversible consequences for ecosystems, communities, and the global economy.
Any international climate agreement, according to experts, must reflect the latest science by acknowledging the need to phase out all fossil fuels, constrain fossil fuel production and not rely on "watered down" language to develop more coal, oil and gas projects. They insist that anything less can lead to the worst of climate breakdown.
Harjeet Singh, Global Engagement  Director of the Fossil Fuel Non-Proliferation Treaty initiative, said: "It is deeply disappointing that the G20 ministers couldn't agree on phasing out fossil fuels when we are in the midst of a global climate breakdown. Instead the weak outcome continued to push for unproven, dangerous technologies. No new fossil fuel production is consistent with climate goals. Richer countries must make immediate and deep cuts in the production of all fossil fuels and support others  in achieving a rapid, fair and just phaseout of existing production.
"By setting ambitious targets, countries can inspire others to take decisive action, foster international cooperation. We need a bold new course correction. The Fossil Fuel Non-Proliferation Treaty can be the missing mechanism that will guide us through the pathway to limit the expansion of fossil fuel infrastructure, phase out existing production, and support a global, just and equitable transition away from deadly coal, oil and gas."
Nakul Sharma, Programme Coordinator, Climate Action Network South Asia, said: "G20 countries, responsible for 80% of global greenhouse gas emissions, failed to reach an agreement on timelines for the phaseout of fossil fuels and their ambition for tripling renewable energy by 2030. It is high time they demonstrate their intention to address climate change. They cannot ignore the findings of the IPCC, the recommendations of the IEA, and adopt an ostrich-like attitude towards the ongoing climate disasters unfolding in almost all the G20 countries.
"The outcome document not only lacks ambition, it is a masterpiece in ambiguity as it fails to set any real targets for emissions reduction or timelines for the uptake of clean energy. The Indian G20 presidency must reject the outcome of the Goa Ministerial meeting and redouble its efforts to bring together all G20 countries to commit to meaningful climate action before the summit in September."