An indigenous firm, Autolady Engineering Technology Limited, under its subsidiary company, Autogas Nigeria, is set to train 1,000 Nigerian technicians and non-technicians across the country on converting petrol vehicles to gas-powered engines and continuing maintenance to mitigate the adverse impact of the fuel subsidy removal on Nigerians.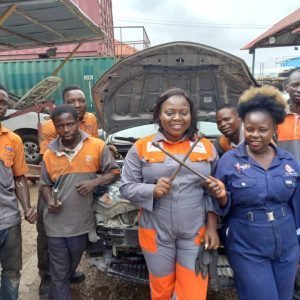 The series of training, which will take place across the country, will kick start from Lagos for a one-week intensive training programme for experienced and inexperienced technicians. The training will also follow workshop attachment for professional proficiency, and professional certifications. The training seeks to empower technicians with the required technical know-how on safe autogas conversion using Compressed Natural Gas positioned as a more affordable option in the face of rising fuel costs.
CEO of the firm, Joyce Daser-Adams, said the training is also a measure taken to accelerate the federal government's Autogas Policy aimed at achieving its 2060 net-zero carbon reduction agenda as it is believed that, by the year 2030, cars-on-gas adoption would have significantly contributed to mitigating the impact of climate change as well as meet the targets of the National Gas Expansion Programme.
Autolady Engineering firm had in 2021 collaborated with other technical partners to train over 150 technicians across the country on autogas conversion, and converted vehicles for several organisations which include the Nigerian Police Force, Council for the Regulation of Engineering in Nigeria (COREN), Nigerian National Petroleum Corporation (NNPC) and many others for free. The firm has opened its portal for interested auto mechanics and automobile technicians across Nigeria to register for the training which commences in the month of September.
Accordingly, due to the high cost of conversion of petrol/diesel vehicles to Autogas vehicles which has been an issue of concern since the launch of the National Gas Expansion Programme (NGEP), therefore we call on the National Automotive Design and Development Council (NADDC) as an agency for automotive sector to collaborate and support our initiative to reduce the cost of training the technicians and as well as conversion kits for the average Nigerians.
With a prolific record for training technicians in auto mechanics, the firm has the capacity to deliver training across the country and is open to partnership with state governments to create employment opportunities for youths as well as boost the economy in the face of rising fuel cost.