Nigeria's worrisomely high maternal mortality ratio was called to question recently when an expectant mother, Folake Oduyoye, 35, died on December 13, 2014 at the Lagos University Teaching Hospital (LUTH), Idi-Araba, under controversial circumstances. It is believed that the deceased's husband, Adeyemi Oduyoye, could not pay the over N1.3 million incurred after his late wife's over one month's stay in the hospital's Intensive Care Unit (ICU).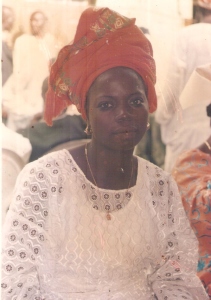 Nigeria has one of the highest figures of maternal mortality in the world. In fact, according to the Demographic Health Survey (DHS) 2013, the country accounts for about 13 per cent of the global maternal death rates with an estimated 36,000 women dying in pregnancy or at child birth each year. At least 5,500 of these deaths are among teenage mothers.
The DHS 2013 also noted that 70 per cent of these pregnancy-related deaths in the country are due to four conditions: haemorrhage, eclampsia, sepsis and abortion complications.
Mrs Oduyoye was however said to have died of pulmonic complications. She was rushed to LUTH in a critical condition after developing complications from failed a Caesarean Section (CS) from childbirth on August 30, 2014, at a Lagos private hospital: Midas Touch Clinic, Aguda, Surulere.
Mr Oduyoye, who said his wife was in the process of giving birth to their fourth child, disclosed that she went into the theatre healthy but came out with infections that required advanced surgery as a result of accumulation of pus in her. He stated that she died after spending about three months in LUTH due to the negligence of the hospital which "detained my wife for our inability to settle a bill of N1.3 million and we were not allowed to leave the hospital to either seek help elsewhere, yet the staff were not attending to her when her condition deteriorated following infections which she had acquired from the hospital," said Mr Oduyoye.
His words: "When we got to LUTH on September 7, my wife was refered to the Accident and Emergency Unit. I was told to pay the sum of N250,000 before my wife will be attended to but unfortunately I was able to raise N230,000 which I paid. Three days after she was admitted, we were informed that she will be operated upon, they carried out the surgery and it was successful.
"She was later transferred to Intensive Care Unit of LUTH. I was told to pay N65,000 to one pharmacist which I did. At the end of the day, we were given a bill over N1 million, I couldn't pay so I met with the acting Chief Medical Director (CMD), who frankly told me to go and pay. I met with the social worker, who told me to write for a rebate, I did that and the CMD was magnanimous to reduce just 20% from the sum despite all I have spent in the past. The social worker, one Doherty, asked how much I can afford and I told her N300,000. She told me to go and pay which I did but my wife was not released. She told me to get a guarantor, I got one and she said that one wasn't qualified. I got another guarantor who is a staff of LUTH but, right in my presence, she discouraged her and that one refused to stand in for me. My wife after much battle died on December 13."
LUTH was said to have kept the woman in ICU for 31 days at a cost of N250,000 weekly compared to over N400,000 charged at other government hospitals and over N1 million in most of the specialist private hospitals in Lagos. The family was then billed about N1.3 million after discharge, which the husband could only pay N300,000. The charges included that of drugs, blood, laboratory tests and others.
This, it was gathered, prompted the hospital management to delay Mrs. Oduyoye until the husband was able to pay. The husband alleged that the hospital also refused to give her further treatment and failed to allow her seek treatment elsewhere for fear that the couple might abscond. He alleged that attempt to pay in instalment was rejected and further complaints about her deteriorating condition were not attended to.
"They did not treat her; they left her in the hospital; they did not allow me to take her for good treatment; they depend on money; they don't care for human life," he lamented.
In a reaction, Acting Chief Medical Director of LUTH, Professor Chris Bode, described Mrs Oduyoye's death as "regrettable in spite of all the efforts by the hospital and not because of negligence of its staff".
Shedding some light on the events leading to the tragedy, he said, "Mrs Folake Oduyoye was admitted into LUTH on 7th of September 2014 as an emergency following some complications from a caesarean section earlier performed in a private hospital. Examination at LUTH Accidents and Emergency showed that she was in shock with possibility of intra-abdominal collection which was confirmed to be an abscess on abdominal ultrasound scan done in LUTH.
"She underwent an emergency abdominal surgery for drainage of the pus in her abdomen following which she remained in critical condition and was admitted into the Intensive Care Unit, with multiple organ failure and for one month she was on ventilator during which she had a tracheostomy for airway management.
"She later suffered two episodes of cardiac arrest from which she was rescued. She also developed renal failure for which she underwent four sessions of haemodialysis and stayed a total of four weeks in the ICU."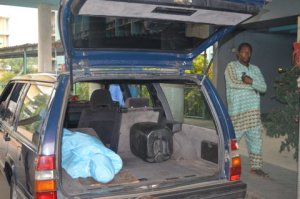 He explained that the multiple surgeries, specialised tests, interventions, dialysis, drugs and consumables cost a total of N1.5 million of which the family paid a total of N300,000 and requested that a total bill of N1.2 million be waived. He said Folake though was discharged on November 9 to the ward under the care of the Neurologist in Ward A4 when she was deemed fit to go home while her husband was sourcing for money to pay hospital fee.
"But her relations, who wanted the hospital to let them walk away without paying for the services she received, abandoned her. The husband requested to pay in instalments of N15,000 per month and this was accepted, but he could not bring anyone to stand as guarantor. The conditions of Folake Oduyoye became suddenly poor and she died of pulmonic complications on Dec.13," said Bode.
The development has attracted the attention of female gender-focused non-governmental organisations (NGOs) like the Women Advocates Research and Documentation Centre (WARDC) and Women's Consortium of Nigeria (WOCON), which have vowed to ensure justice is received over the manner of death of the Mrs Oduyoye in the hands of caregivers at LUTH.
Esentially, the women organisations who are taking up the fight for justice are of the opinion that the handling of the case was "unfair and unjust".
The WARDC, in a petition, is demanding, among other things, an independent post-mortem examination to ascertain the cause of her death; compensation to the family of the deceased; an end to the practice of detention after birth for indigent women; and, immediate release of every woman held in custody in such manner.
Executive Director, WARDC, Dr Abiola Akiyode, decried the insensitivity of hospitals in Nigeria noting, "The high cost of health care in Nigeria is preventing women from accessing quality deliveries in hospitals.
"This is very common when it comes to the issue of maternal mortality in Nigeria. Women don't want to go to the hospital because they know that when they give birth and they cannot afford the huge amount of money that the hospital presents to them, they normally detain them. This is one of such cases detentions and this death is the result of the detention."
Similarly, Executive Director of WOCON, Bisi Olateru-Olagbegi, stated, "The situation is very sad for this country because when you have a situation where if you don't have money you are not entitled to standard health. It is just terrible.
"Is it a crime for a woman to produce children? We say we have high mortality rate in this country, we are the second largest in the whole world and we are supposed to be getting funds from all kinds of people, all kinds of agencies to assist us in this. Can't they use that kind of funds to prevent the loss of lives?"
The two organisations have jointly petitioned the hospital, demanding for compensation to the family of the deceased.
The petition reads in part: "According to information available to us, a large number of women are being prevented from going home after discharge from LUTH for their inability to offset huge bills relating to pregnancy and child birth. Yet further treatment is withdrawn from these women and they are not free to seek treatment in other hospitals.
"According to our client, several women have died due to failure of the hospital management to attend to them and several are still being detained for failure to pay up the fees. If nothing is done immediately, more women would likely suffer the same fate as the late Folake."
Bode however explained further: "LUTH cares (at highly subsidized rates) for all patients who cross her threshold. Treatment in an Intensive Care Unit costs as much as N400,000 to N5 million in other hospitals in Lagos and LUTH ICU care is the cheapest. To continue this level of care efficiently, cost of care must be recovered, otherwise there will be a decline in quality. The real questions that should be asked is how many Nigerians have Health Insurance to cover them and their families? To lay these issues at the doorsteps of our Hospital is akin to barking up the wrong tree. Advocacy groups should assist healthcare givers to preach the need for everyone to embrace Health Insurance and improve unencumbered access to affordable medical care.
"Be informed that although treatment in LUTH is highly subsidised, it is not free. Those who benefit from this hospital should pay for such services so that others may also have access to the same quality of care in future. If however someone is so poor that they cannot pay for treatment, we do not expect them to bring a crowd to our ward, destroy property, threaten our workers and assault them. The death is a Coroner's case and the official cause of death would be made known to the family after the post mortem examination."
Meanwhile, Development Communications (DevComs) Network and its partners on the NOTAGAIN Campaign has called on the Federal Government of Nigeria to ensure effective implementation of the new National Health Law to help women and children have access to quality health care.
The NOTAGAIN campaign is a National Campaign slogan initiated by a number of MacArthur Foundation's grantees in a bid to work towards achieving the overall goal of bringing maternal mortality ratio in Nigeria to its barest minimum.
By Michael Simire