For the second time in less than one month, Europe is witnessing a widespread and intense heatwave, with many new maximum and minimum temperature records, disruption to transport and infrastructure and stress on people's health and the environment.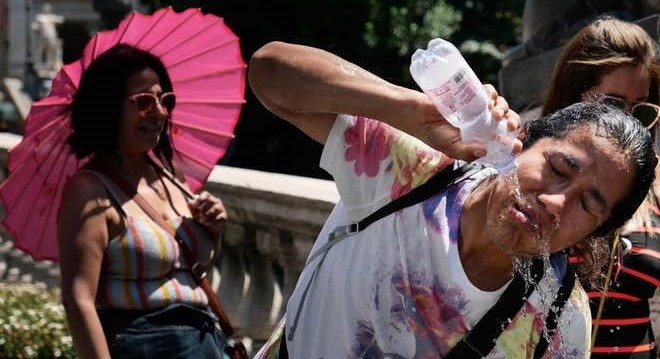 Belgium, Germany and the Netherlands saw new national temperature records, as temperatures passed the 40° Celsius mark. In France, Paris recorded its hottest day on record, with provisional temperatures of 42.6 °C at 1630, an unprecedented value since the beginning of measurements. The United Kingdom saw its hottest July day on record on Thursday, July 25, 2019.
National meteorological and hydrological services have issued heat alerts – including the top-level red alert – and, in some areas, fire warnings to minimize the risk to life and the environment.
The July heatwave follows an unusually early and exceptionally intense heatwave in June, which set new temperature records in Europe and ensured that the month of June was the hottest on record for the continent, with the average temperature of 2° Celsius above normal.
June was also the warmest June on record globally, with severe wildfires in the Arctic.
Climate change and heatwaves
"Such intense and widespread heatwaves carry the signature of man-made climate change. This is consistent with the scientific finding showing evidence of more frequent, drawn out and intense heat events as greenhouse gas concentrations lead to a rise in global temperatures," according to Johannes Cullmann, Director of the World Meteorological Organisation's (WMO) Climate and Water Department.
"WMO expects that 2019 will be in the five top warmest years on record, and that 2015-2019 is to be the warmest of any equivalent five-year period on record," he said.
Many scientific studies have been conducted on the links between climate change and heatwaves.
"Every heatwave occurring in Europe today is made more likely and more intense by human-induced climate change," said a study published by scientists at World Weather Attribution on the Human contribution to record-breaking June 2019 heatwave in France.
"The observations show a very large increase in the temperature of these heatwaves. Currently such an event is estimated to occur with a return period of 30 years, but similarly frequent heatwaves would have likely been about 4 ºC cooler a century ago. In other words, a heatwave that intense is occurring at least 10 times more frequently today than a century ago," it said.
In its Fifth Assessment Report (2014), the Intergovernmental Panel on Climate Change (IPCC) said that "it is very likely that human influence has contributed to the observed global scale changes in the frequency and intensity of daily temperature extremes since the mid-20th century. It is likely that human influence has more than doubled the probability of occurrence of heat waves in some locations."
In its 2018 report on Global Warming of 1.5°C, the IPCC said that climate-related risks to health, livelihoods, food security, water supply, human security, and economic growth are projected to increase with global warming of 1.5 °C and increase further with 2 °C. Limiting warming to 1.5 °C rather than 2 °C could result in 420 million fewer people being exposed to severe heatwaves, it said.
Between 2000 and 2016, the number of people exposed to heatwaves was estimated to have increased by around 125 million persons, as the average length of individual heatwaves was 0.37 days longer, compared to the period between 1986 and 2008, according to the World Health Organization.
Many countries have issued national climate assessments and scenarios which underline the close connection between climate change and heat.