Health of Mother Earth Foundation (HOMEF), an environmental rights group, has trained no few than 40 residents of oil bearing communities in Delta and Bayelsa states.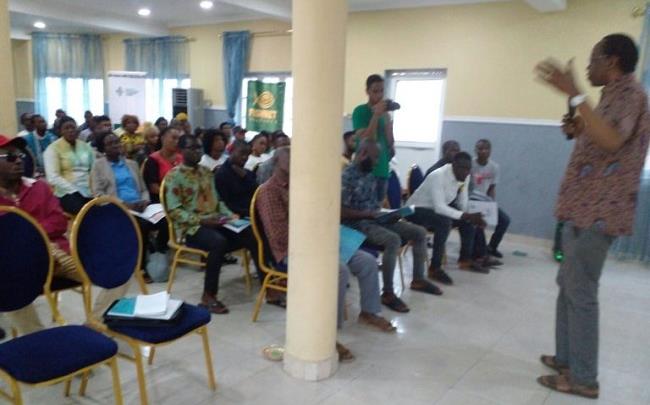 Speaking to the volunteers drawn from Gbarain/Ekpetiama in Bayelsa and Iwhrekan in Delta, Dr Nnimmo Bassey, Executive Director of HOMEF, said that a safe environment was fundamental to support lives and livelihoods.
He said that there was the need for people, who resided near oil and gas fields, to remain vigilant in conserving the environment.
He advised that they should also ensure that the economic interests of investors did not threaten the environment.
Bassey said there was the need to raise volunteers who would defend the ecosystem from degradation and pollution.
He said that Iwhrekan and Gbarain gas fields constituted the dominant gas flare sites in the Niger Delta, hence residents from the areas required capacity building on environmental management.
He advised them to develop their skills to "listen to the environment" as it responded and spoke by responding to human activities that distort the ecosystem.
Also speaking, Mr Alagoa Morris, an environmentalist, said that monitoring the environment demanded factual and evidence-based data collection, recording and reporting.
"In journalism, the media professionals say that facts are sacred, and that is even much more applicable and I will say that in advocating for environmental justice, facts were more sacred.
"I say so because there is no room for false and misleading information; as all facts must be validated at various stages, including litigation while exaggeration is strongly discouraged.
"Environmental monitoring is evidence-based and empirical, and it makes the information stand the test of time," Morris said.
Also, Mr Ken Henshaw, a civil society activist, who examined the imperatives of the divestment by oil firms from onshore assets and the Petroleum Industry Act (PIA), urged communities to brace up for the challenges in the new era.
Henshaw noted that the new law, which recommended a three per cent operational budget as host community funds, left the constitution of the governance structures largely in the hands of oil firms.
He observed that the PIA was silent on existing corporate social obligations operated by oil firms.
Mr Cadmus Alake-Enade, Project Lead, Fossil Politics and Climate Change at HOMEF, took the participants through the steps and procedures in environmental monitoring and reporting.
Alake-Enade urged them to be observant about changes in their environment and record same over time to establish a trend.
The interactive segment of the training had the volunteers from the two states share experiences on the adverse impacts of oil and gas exploration on their environments.
By Nathan Nwakamma