With science taking centre stage, the Next Einstein Forum's Global Gathering, Africa's premiere global science and technology forum, wrapped up on Thursday in Dakar, Senegal with a clear path forward on how best to drive development through science, technology and innovation across the continent. The event was convened by the Next Einstein Forum (NEF), an initiative of the African Institute for Mathematical Sciences (AIMS) in partnership with the Robert Bosch Stiftung.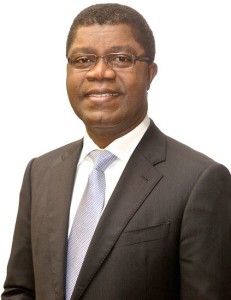 The first-ever global science forum on African soil, the three-day STEM-focused summit (Science, Technology, Engineering and Mathematics) brought together more than 800 global scientific and industry thought-leaders, political leaders and young scientists uniting to chart a new course for science-led development in Africa.
"This is a transformational moment for Africa and we would like to thank the President, Prime Minister and people of Senegal for welcoming the international scientific community to Dakar," said Thierry Zomahoun, NEF Chairperson and President and CEO of the African Institute for Mathematical Sciences (AIMS). "Over the past three days, our scientists have showed us and the world that given the opportunity, they are able to do extraordinary things. Taking our African scientists out of the shadows and giving them the exposure on a global level, we're creating a youth-driven Pan-African scientific community that must be sustained and expanded starting with our NEF Fellows and Ambassadors."
Featuring a series of scientific and solution-driven sessions and spotlights of the NEF's remarkable 15 Fellows, the forum's umbrella mission was to drive continent-wide collaboration and commitment to building a strong STEM ecosystem in Africa as well as to showcase an impressive pool of rising and established STEM talent. Further, participants discussed the need for regional collaboration and investment in basic and applied sciences.
Speaking at a panel on developing a national science strategy and taking concrete steps to move from policy to implementation, Mary Teuw Niane, Minister of Higher Education and Research, Senegal, commented: "We've set an important precedent here in Dakar that Africa can indeed become a global scientific hub but only if we create the sustainable funding and support infrastructure critical to building scientific capital. Where there are many challenges, science provides endless solutions, both now and in the future. We must seize the opportunity by leveraging buy in and best practice results from Africa and the world."
Moses Bangura, founder of Rokel Delivery Services (RDS), an African led start-up that leverages advances in drone technology and network mapping to deliver urgent life-saving health care solutions, won the NEF Global Challenge of Invention to Innovation competition (Ci2i), which spotlighted an array of young scientist pitching their impact-driven solutions to a live audience and judging panel. Bangura commented: "With our business idea, we seek to raise money to develop an advanced prototype for testing and install a few ground stations, run pilot studies in at least two African countries and participate in the development of legal infrastructures in the use of drones for service delivery in Africa. This we believe will be the first of its kind in the world. In the end, RDS will ensure that health care products are able to reach people in emergencies and those who are in the furthest regions from connected roads."
"This week, we've gotten a sneak preview of the future of an Africa that is young and rapidly transforming. Science is key to this evolution and NEF is a critical platform to realize this potential.  We all agree that a strong scientific community on this continent will also revolutionise the global scientific community," said Ingrid Wünning Tschol, Senior VP of Strategy, Robert Bosch Stiftung.
According to the organisers, the NEF is committed to a holistic, action-oriented roadmap aimed at enabling science-driven development by forging strategic partnerships, securing increased investment, developing research capacity, encouraging education, empowering young African scientists and promoting diversity and women in STEM.
Following the signing of a memorandum of understanding (MOU) between AIMS and Germany's Federal Ministry of Education and Research (BMBF), both organisations announced the establishment of five research chairs to strengthen research and support scientific exchange. The first chair has already been set up at AIMS Senegal with NEF Fellow Moustapha Fall with others chairs in South Africa, Ghana, Cameroon and Tanzania to follow. In total, the programme is valued at nine million euros.
Alongside Neil Turok, AIMS Founder and Chairman and current Director of Perimeter Institute for Theoretical Physics, NEF President Thierry Zomahoun, signed a letter of intent with the government of the Federal Republic of Nigeria to open an AIMS center in Nigeria. The NEF also announced the launch of the AIMS Women in STEM Initiative (AIMSWIS), a collaborative industry effort to prioritise African women in STEM supported by the African Union Commission, the Government of Senegal, Human Sciences Research Council (HSRC), South Africa, Forum for African Women Educationalists, Johnson & Johnson, International Development Research Centre and others.
Also on Thursday, IBM Research and the NEF announced the launch of a visiting scientist programme, joining forces to promote the future of African scientific talent and advance the continent's knowledge economy.
"The Next Einstein Forum is particularly pleased to partner with IBM Research on this program which demonstrates concretely what we are trying to do – bridge brilliant scientists from Africa to global opportunities for research and mentorship, both to receive and give mentorship," said Arun Sharma, Managing Director, NEF. "The selected NEF Fellows are already accomplished scientists in their own right and the programme will allow them to further their research and global standing."
Through the collaborative agreement, five NEF Fellows will become visiting IBM scientists at IBM's global network of research labs in countries such as Kenya, US, Switzerland, China, India, Brazil, Israel, and Australia. The programme is designed to give a boost to Africa's most promising young scientists and help set the pace and direction for the continent's cutting edge scientific research.
"African economies have experienced tremendous growth in the last few decades. To sustain this growth into the future, it is imperative to support the development of Africa's knowledge economy and drive science in Africa, for Africa and the world," said Dr. Solomon Assefa, Director of IBM's South Africa Research Lab. "This initiative from IBM Research and the Next Einstein Forum is designed to support some of Africa's most promising young scientists and equip them with the skills and professional networks they need to make a difference in Africa and beyond."
The next NEF Global Gathering will be held in Kigali, Rwanda in 2018, which is now home to the AIMS headquarters, Africa's first quantum research centre Quantum Leap Africa and the NEF secretariat.