A flood, which followed many hours of downpour, displaced numerous homes and caused deaths in Suleja, Niger State on Sunday, July 9, 2017 witnesses said.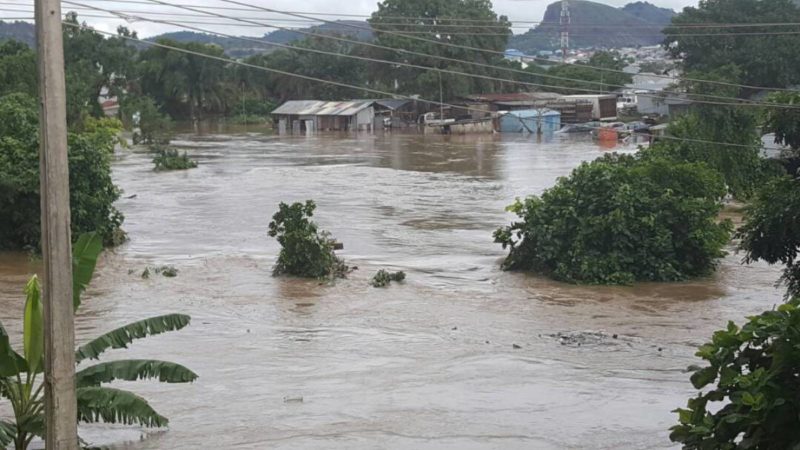 Witnesses said eight members of a household were suspected to have died in the flood, which affected Suleja and Tafa Local Government Areas (LGAs) of the state.
The head of the household was said to have survived, but his two wives and six children were not that lucky.
The New Agency of Nigeria (NAN) reports that many families were affected, with household effects floating in the water.
Many people struggled to bale water out of their houses.
Mohammed Mohammed, the District Police Officer in-charge of Division 'A' Police station in Suleja, could not confirm the casualty figure, but said his men had visited the flood scenes.
Mohammed said: "The flood affected many people who built their houses along the river bank; many houses have been destroyed with unconfirmed number of deaths recorded.
"Police are providing security around the scene so that hoodlums will not cart away victims' property especially those lying outside."
Mohammed promised to furnish more details on the incident.
The National Emergency Management Agency (NEMA) was not also able to give details.
Meanwhile, Malam Abdulkareem Samanja, the Village Head of Hayin Nasarawa-Iku in the nearby Tafa Local Government Area, decried the loss of property.
Samanja said he was still awaiting report from ward heads on the incident.
At Suleja General Hospital, Musliu Mohammed, a 17-year-old boy recovered from the flood and brought into the hospital by sympathisers, was placed on admission.