The Dubai International Airport in the United Arab Emirates (UAE), world's third busiest airport, has had to deal with delayed, diverted and canceled flights as heavy rains have led to intense flooding.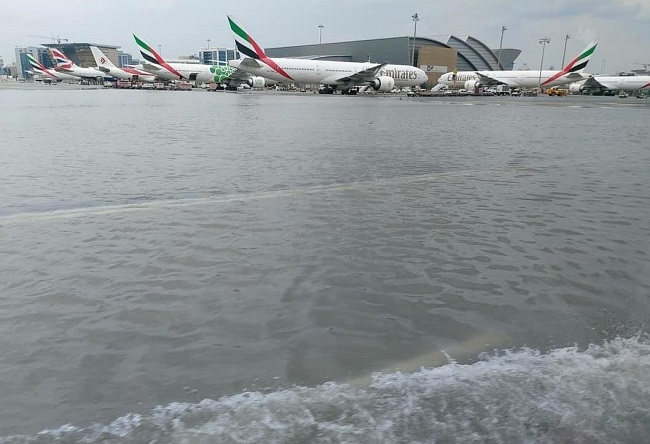 The famous and expansive airport is scrambling to cope with the extreme weather, and working round the clock to get its operations back to normal. However, with more heavy rains expected, the situation may not improve any time soon.
Video footages have shown submerged ramp areas and runway sections. The flooding has also caused mass disruption on roads and public transit.
"Dubai Airports can confirm that, due to heavy rainfall and flooding earlier today, Dubai International (DXB) is experiencing operational disruptions. We are working closely with our service partners to get back to full operations as soon as possible. However, flight delays are expected to continue through the day with some cancellations and diversions to Dubai World Central (DWC)," officials disclosed at the weekend.
According to reports, rain fell throughout Friday and the early hours of Saturday leading to many roads heavily waterlogged. Readings show that Dubai received 150mm of rain every hour for two-and-a-half hours. Sources describe the development as "extremely out of the ordinary for Dubai as an average January experiences only 10mm of rain over the full month".
The UAE's National Centre of Meteorology sent out an alert warning residents to be extremely vigilant. In fact, "hazardous weather events of exceptional severity" were in the forecast as thunder and heavy rain have reportedly enveloped the Northern Emirates.
"Looking at FlightRadar24 data, it appears that the majority of flights were delayed between one hour and three hours. Some flights, like EK82 coming from Lyon, arrived five hours later than the scheduled time. Several flights were diverted to neighboring airports such as Muscat International Airport (Oman), and Fujairah International Airport (UAE). Most flights that were diverted went to Al Maktoum airport, also known as Dubai World Central. A smaller percentage of flights were canceled.
"One flight didn't even make it to the Gulf. Norwegian flight DY4601 flying from Stockholm was diverted to Paphos (Cyprus)," disclosed Simple Flying.
A source said: "Climate change is a reality. Most of Dubai was built without storm water drains, as it never rains all year round. Dubai is going through what it never envisaged.
"A 10-hour rainstorm that deluged Dubai with 150mm of rain in just one hour has brought the emirate to a standstill."
Social media was inundated with photos of flooded roads, submerged cars and impassable highways. Several tunnels along the iconic Sheikh Zayed Road were completely submerged as emergency crews struggled to pump out the rainwater, shining a light on inadequate infrastructure capable of dealing with such weather events.