The first forum on national parks commenced on Monday, August 19, 2019 in Xining, capital of northwest China's Qinghai Province.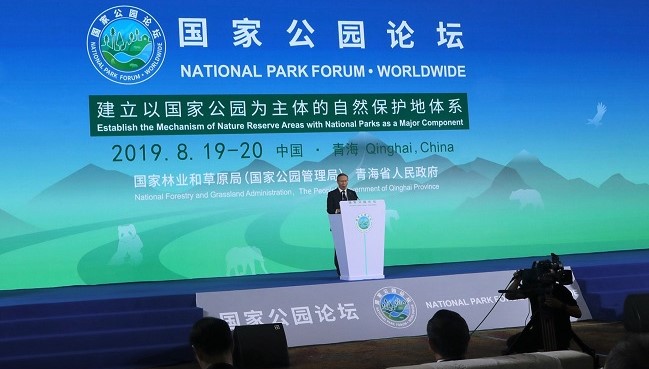 The two-day event attracted more than 450 representatives of regulatory agencies, as well as experts/scholars at home and abroad to discuss topics including construction and management of nature reserve areas, biodiversity protection, and the future of natural heritage sites.
The Head of the National Forestry and Grassland Administration, Zhang Jianlong, said the establishment of a national park system was crucial to the protection and maintenance of ecological system and build-up harmony between man and nature,
"We will build up a nature reserve system with national parks as its main body; China has approved the pilot plans for a spate of national parks.
"We will strive to largely finish the political task in 2020 to support the full establishment of the national park system," Jianlong said.
Jonathan Jarvis, former Director of the U.S. National Park Service, said through the new national park system, China had the opportunity to contribute to world biodiversity conservation, climate change adaptation.
"It is to show leadership in ecosystem services and the relationship between humans and environment. China has world class natural and cultural resources such as those I saw within the pilot Sanjiangyuan National Park.
"In Qinghai, located on the Qinghai-Tibet Plateau, boasts some of the richest biodiversity in the world and is one of the first provinces in China to carry out pilot programmes for the national park system," Jarvis said.
However, the Chinese government aimed to set up a batch of national parks and form a unified management system by 2020 with an aim to connect fragmented habitats and improve the management and conservation of wildlife.
Pilot projects are underway for 10 national parks, including one in Sanjiangyuan in Qinghai, which is home to the headwaters of the Yangtze, Yellow and Lancang rivers.
The forum is being jointly hosted by the National Forestry and Grassland Administration and the provincial government of Qinghai.