Daikin, manufacturer of air conditioning, heating, ventilation and refrigeration solutions, has inaugurated its second training centre in Nigeria in partnership with Field of Skills and Dream VTE (FSD).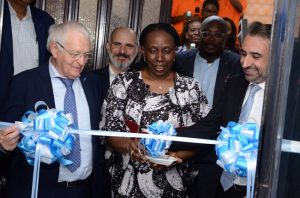 The FSD is a vocational, technical, and entrepreneurship training institute that facilitates the training of new technicians.
Speaking at the inauguration of the centre on Tuesday, May 30, 2023, in Lagos, Mr Tuna Gulenc, Vice President at Daikin Middle East and Africa (MEA), said the company would continue to serve local market where it operates.
Gulenc said that the training centre would be an extension of Daikin's expertise and know-how to further build the skills and knowledge in the Nigerian market.
He added that the centre would promote best practices of sustainable cooling – an active contribution to the socio-economic development of Nigeria.
"We are proud to collaborate with the FSD which comes with a proven track record of training technicians and positively contributing to the betterment of the Nigerian society for development and growth," Gulenc said.
He said that Daikin was striving hard for the people of Africa to provide access to better air quality and energy efficiency, while simultaneously strengthening service and aftermarket support.
Gulenc said that as part of Daikin's localisation strategy, the training centre would build a community of skilled workforce and equip them with all the necessary education required to excel in their careers.
This, he said, would enable them to contribute to Africa's climate efforts by promoting sustainable cooling solutions.
"Africa is a key market for Daikin, and Nigeria is going through a rapid transformation," he said.
Gulenc said that with the increase in climate change, the demand for air conditioners was on the rise even in Nigeria.
He noted that the demand comes at the price of its impact on the environment, hence the realisation of promoting sustainable cooling practices could be met faster by educating the local market and its users.
He said that Daikin's focuses on sustainability, energy efficiency, Indoor Air Quality (IAQ), driving more awareness toward a healthy living environment.
Gulenc recalled that earlier in 2022, Daikin MEA, opened its first training centre and first sales office in Lagos in 2020.
Also speaking, Mrs Omowale Ogunrinde, Director at FSD, said that the intervention of Daikin to upgrade FSD's Technical and Vocational Education and Training skills development workshop for Heating, Ventilation and Air Conditioning (HVAC), technicians came at the right time.
Ogunrinde said the FSD was already expanding its training facilities to empower more young Nigerians with skills to access new jobs and start small businesses of their own.
"FSD has always said that there are jobs but no skilled people because we have a 100 per cent employment rate for our trainees.
"With the provision of modern and state-of-the-art HVAC training equipment by Daikin and upskilling the trainers at FSD, our goal of producing more technicians equipped with the requisite skills to deploy professional services in global cooling technology would be met across Nigeria," Ogunrinde said.
The event was graced by representatives from the Industrial Training Fund, the Lagos State Employment Trust Fund and members of the diplomatic community.
By Fabian Ekeruche