Some 450 public development banks and financial institutions that control approximately $2 trillion in public money all over the globe are this week gathering for the first time to discuss actions to ensure a just recovery from Covid-19 and towards a transition to better and more sustainable economic systems for all.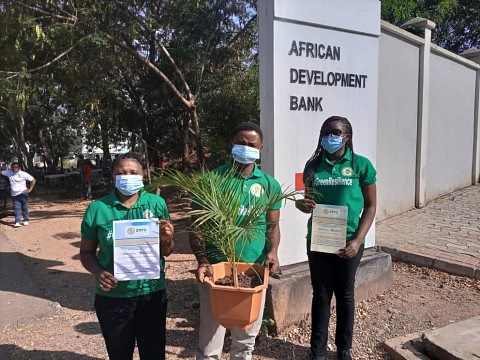 First global event of its kind, the Finance in Common Summit (FiC) aims to get commitments from participating banks to align their policies with climate, sustainable development and biodiversity goals.
Taking place from November 9 to 12, 2020, the FIC will stress the crucial role of Public Development Banks (PDBs) in reconciling short-term countercyclical responses with sustainable recovery measures that will have a long-term impact on the planet and societies.
To draw attention to the need for development banks to lead the way and direct public money to a truly healthy, equitable, sustainable and just recovery, actions are taking place in all corners of the globe during the week.
On Monday, November 9, civil society groups in Abuja, Nigeria handed over a joint civil society letter to the African Development Bank (AfDB) asking the finance institution to divest from fossil fuels and increase funding to renewables across Africa.
On Tuesday, November 10, 350.org and allies will assemble a portable solar power generator and donate it to an impacted community who are suffering from power outages due to Super Typhoon Goni.
They will do a photo-opportunity in Manila, The Philippines with hologram fans that will create light banners, with messages calling on Asian development banks to put public money towards achieving a Just Recovery post-Covid19 and the climate crisis.
On Thursday, November 12, 350.org and allies will open four giant banners (20m long) on different bridges in Paris, France next to the main French public financial institutions.
The banners contain the messages: "Save billions of lives: fund people not climate criminals"; "Destroying our lungs, our lands, flooding our communities/ Exxon, BP, Gazprom, Shell, Total & Eni: Make Them Pay"; "Human Rights are also obligations – do your diligence"; and "Rich countries' environmental debt: the only legitimate debt".
Also Thursday November 12, 350.org and partners will do a creative action in Rio de Janeiro, Brazil, demanding that the Brazilian Development Bank (BNDES) stop financing fossil fuels and put its billions of BRL in renewable and just energy.