Prime Minister of Fiji, Voreqe Bainimarama, believes that the country's aim as the incoming president of the COP23 is to build greater resilience for all vulnerable nations against extreme weather events and rising sea levels.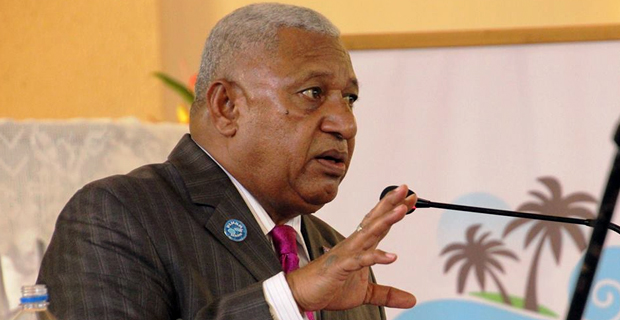 While addressing the members at the Methodist Church Conference at Centenary Church on Thursday, August 24, 2017 in Suva, Bainimarama says that government has implemented the Environment Levy to ensure plastic bag usage is reduced but leaders in church can make a far greater impact if they continue to emphasise on climate change issues in the community or at home.
Bainimarama says that Fiji's vision is to advance the work of the UN Framework Convention on Climate Change (UNFCCC) and preserve the multilateral consensus for decisive action and address the underlying causes of climate change.
He believes this will harness innovation, enterprise and investment to fast track the development of climate solutions that will build future economies with net zero greenhouse gas emissions.
Bainimarama has acknowledged the work that Ambassador Nazhat Shameem and Agriculture Minister Inia Seruiratu is doing to negotiate with bigger nations to agree to Fiji's proposal on climate change.
He says that Ambassador Shameem, who is the Chief Negotiator for the COP23 Presidency, plays an important role in overseeing the formal negotiation process on behalf of Fijian Presidency.
Bainimarama says that if we do not act, then we are prepared to see low lying areas gets flooded and government will spend more money in relocating villagers.
Early this year, government identified 63 villages in the country to be relocated after Tropical Cyclone Winston last year.
Bainimarama urged the members of the church to stand with him in fighting for the future generation and stand up for the other Pacific island nations.
Courtesy: fijivillage.com