The Value Chain Development Programme (VCDP), initiated by International Fund for Agricultural Development (IFAD), has contributed $37.2 million (about N13.4 billion) to Nigeria's Gross Domestic Product (GDP).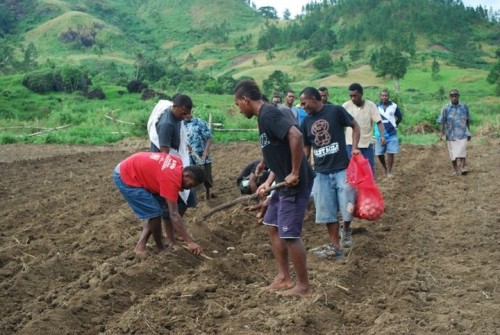 Mrs Vera Onyeaka-Onyilo, IFAD Communication Officer, recently disclosed this in a document presented to News Agency of Nigeria (NAN) in Abuja.
The document, titled "VCDP Summary Progress'', noted that data on the 2016 wet season farming and 2016/2017 dry season farming indicated that VCDP also contributed 58,376 tonnes of rice and 184,378 tonnes of cassava to the national food basket.
The Federal Government is implementing VCDP, which became disbursement-effective in January 2015, in Niger, Ogun, Taraba, Benue, Ebonyi and Anambra states.
The completion date of the programme, whose goal is to reduce poverty and accelerate sustainable economic growth, is Dec. 31, 2019.
Onyeaka-Onyilo explained that from the revenue of N38.5 billion and the implementation cost of N14.7 billion, the income-investment analysis, inclusive of overhead costs, indicated a benefit of N2.5 for each N1 invested from the sale of produce alone.
She said that going by the review, the overall achievements indicated that the VCDP had made appreciable progress in the last two years of effective implementation.
"The programme is planned to increase agricultural income by at least 25 per cent for 45,000 smallholder farmers.
"It is also expected to indirectly benefit up to 320,800 people from the production of rice and cassava along the two value chains,'' she said.
Onyeaka-Onyilo said that the specific programme development objective was the enhancement of the incomes and food security of rural poor households that were engaged in production, processing and marketing of rice and cassava on a sustainable basis.
She noted that the programme had continued to invest in group and cluster development schemes as a viable value chain business model.
"It has strength working with the private sector to facilitate service delivery to smallholder farmers, identifying viable business opportunities within the commodity chains for the youth.
"It has also ensured arable land development to boost women and youth access to land, while sharing innovative agronomic practices with farmers to enhance their productivity and youth engagement in agriculture,'' she said.
Besides, Onyeaka-Onyilo said that some of the participating state governments had adopted some aspects of the value chain to enhance their service delivery to smallholder farmers.
She said that the VCDP had also influenced strong state government ownership, which was reflected by the governments' payment of counterpart funds and policy support in land development to enhance the access of youths and women to land for dry season farming.
"The programme has also facilitated an innovative Commodity Alliance Forum (CAF), which empowers smallholder farmers to engage and transact businesses with major private sector players in each state.
"The forum involves farmers and key private sector operators who meet quarterly to review the stakeholders' engagement in the selected commodity,'' she added.
Investigations by NAN revealed that the CAF, which had been empowering smallholder farmers and restoring confidence between off-takers and farming communities, was considered a key pillar in the sustainability of VCDP.
Mrs Laadi Ngbegha, one of the beneficiaries and a rice farmer in Iye Community, Guma Local Government Area in Benue State, said the off-taker arrangement had strengthened the use of value chain action plans (VCAPs) by participating field officials (FOs).
She said that the FOs were those officials facilitating cashless credit services on farm inputs for farmers in Benue and Niger.
Ngbegha said the programme had facilitated the establishment of group seed production enterprises by youths via a partnership with Africa Rice Centre, National Root Crops Research Institute (NRCRI) and International Institute of Tropical Agriculture (IITA).
"It has introduced the use of private sector extension schemes to promote good agronomic practices and enhance farmers' productivity.
"The VCDP has demonstrated that value chain is a sound economic investment model for Nigeria,'' she said.
Some of the beneficiaries in Benue noted that smallholder rice and cassava farmers were now having new market opportunities.
They said that the development marked the farmers' first steps out of poverty through a contract farming scheme in which farmers were guaranteed markets for their crops.
They emphasised that the VCDP had been able to link over 3,603 rice farmers in Benue to Olam International, an agribusiness company, to buy paddy from rice growers.
"Last year, Olam International bought around 997 tonnes of paddy from rice farmers in Benue; the rice was later processed and sold in the Nigerian market.
"Olam also provided the farmers with necessary inputs; certified seeds, fertilisers, and agrochemicals with a guaranteed 'buy-back' of the produce at prevailing market prices at the end of the season.
"Olam International extended financial credit to farmers to meet their equity contribution to the VCDP matching grant through a commercial bank,'' they said.
Michael Afune, a young rice farmer in Omor, Ayamelum Local Government Area of Anambra, told NAN that empowering young people through agribusiness was a success story.
He said that in line with the Federal Government's commitment to reducing youth unemployment and poverty, the VCDP had been creating a new generation of young farmers in Anambra, with sound training in techniques that could generate new economic opportunities and boost income.
"I have been cultivating rice for years with poor yields, but learning modern methods of rice farming through the VCDP has led to better yields and better incomes,'' Afune said.
Eze Michael Ogbonnaya-Ukwa, the traditional ruler of Igbeagu, Izzi Local Government Erea of Ebonyi, noted that the VCDP had constructed 134.5km roads in the six benefiting states.
He said the newly constructed road and bridge in Igbeagu community, for instance, had positively impacted on the social and agribusiness activities of the residents of the community.
"The primary purpose of the road, constructed under the VCDP, is to create access for farmers to transport produce from their farms.
"The road is also facilitating the efforts of large-scale produce buyers to reach farm gates to buy produce directly from the farmers.
"Prior to the construction of this road, our farming experience had been horrendous and we couldn't do much. We are happy that the road has eased our burden,'' Ogbonnaya-Ukwa said.
A rice processor, Hadiya Hajara Mohammed of the ZokoYegborolo Multipurpose Cooperative Society in Bida, Niger State, said that the VCDP had significantly increased the quantity and quality of the rice produced in the neighbourhood.
She said the "false bottom'' parboiling technology was introduced by the VCDP to enhance the quality of locally grown rice and make it to compete favourably with imported rice.
"More than 1,623 participants across the project six states were trained on the use of 'false bottom' parboiling technique and it has changed how we process rice.
"We've been in rice business for more than 20 years, with nothing to show for it, but within one and half years, IFAD-VCDP has made us rich.
"We are now expanding our business and employing people to work and get paid,'' she added.
In a nutshell, IFAD-VCDP has been supporting smallholder farmers in the six benefiting states of Benue, Anambra, Ebonyi, Taraba, Niger and Ogun in rice production.
It has also signed 1,106 agreements with major off-takers in rice and cassava value chains, while supporting farmers to increase their production, in efforts to improve Nigeria's food security.
Mr Samuel Adeogun, Ogun State Coordinator of VCDP, said: "There has been increase in the number of people having access to land, especially women and youths.
"Land development has also provided room for farm mechanisation. We believe that the use of farm mechanisation increases efficiency; reduces cost of production and improves farm yield."
Mrs Folashade Arijogbade, a cassava farmer in Aiyetoro community in Yewa North Local Government Area of Ogun, said that through the VCDP intervention on land development; her group now owned a 30-hectare farmland, up from the previous 0.5 hectares.
She said that the land development scheme of the VCDP required land owners or communities to sign a land-leasing agreement for a minimum of 10 years.
"The lands are sourced from either the communities  or the government.
"By this, they will be able to recoup their investment on the lands because land development is a capital intensive venture which is beyond the capacity of smallholder farmers,'' she said.
NAN learnt that the land development project of the VCDP has facilitated improved mechanisation among the farmers, while creating services for farmers and jobs for farm mechanisation service providers.
It has also developed 1,292 hectares in the six participating states and provided mechanisation at a 50 per cent subsidy to boost farmers' participation.
In the programme that has a budget of $104.4 million; IFAD is providing $74.4 million, while the Federal Government is contributing $9.9 million.
The state governments are contributing $10.4 million; the local government councils are providing $4.3 million; the complementary financing is $2.8 million, while the beneficiaries are contributing $2.1 million.
By Hawa Lawal, News Agency of Nigeria (NAN)