The Association of Professional Women Engineers of Nigeria (APWEN) has appealed to Lagos State Government to hand over the popular Olusosun dumpsite to the association for better management, to tackle air pollution.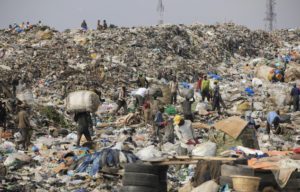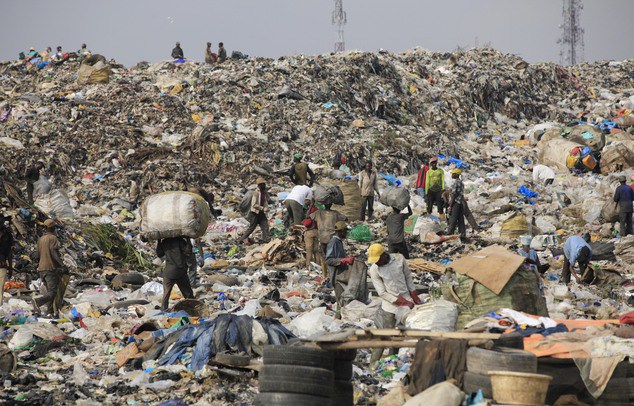 APWEN Lagos Chapter Chairman, Mrs Atinuke Owolabi, made the appeal on Thursday, September 7, 2023, during the association's monthly zoom meeting and Technical Presentation.
The programme was also organised to commemorate the International Day of Clean Air for Blue skies, with the theme "Clean Air for Blue Skies: The Role of Female Engineers in Environmental Transformation".
Owolabi gave a detailed history of the Olusosun dumpsite, which is the oldest and largest in Nigeria, saying that it has become a health risk to residents due to strong odour polluting the air.
She commended the Lagos State Government's efforts in managing the wastes over the years but appealed for total closure of the site.
The chairperson appealed that the site be handed over to APWEN to bring in innovations and turn it to an engineering-based solution hub, thereby mitigating environmental and health hazards.
She said pursuit of a healthier environment demanded collective efforts and advocacy, hence, APWEN's commitment to offer solutions to make community better.
"The dumpsite has been associated with various environmental issues, including air and water pollution, as well as concerns about soil contamination.
"The burning of waste at the site has led to air quality problems in the surrounding areas.
"Proximity to the dumpsite has raised health concerns for nearby residents due to the release of hazardous chemicals and gases from the decomposing waste.
"We, as professional female Engineers in the state, stand ready to proffer innovative solutions that will uplift the lives of those residing nearby while addressing other socio-economic matters within the state and our nation at large.
"We commend the efforts of Lagos State Government over the years towards closure and relocation of this significant and notorious dumpsite.
"We hereby use this medium to appeal to our Governor, Mr Babajide Sanwo-Olu, to consider permanent closure of the site to waste disposal and convert the site into an engineering-based solution hub, thereby mitigating environmental and health hazards," she said.
Owolabi urged Nigerians, in commemorating the International Day of Clean Air for Blue Skies, to be intentional in adopting practical steps that promote human and environmental health.
"Together, as female engineers, we can contribute significantly to the preservation of our planet for generations to come.
"Today, September 7, 2023, as we mark this global observance, we must reflect on the importance of clean air and the profound impact it has on our lives, our communities, and our planet," she said.
Owolabi said air quality directly affects people's health, the environment, and the well-being of future generations, adding that female engineers were doing thier bit as solution providers in society through innovations.
Mrs Helen Taiwo, Executive Director, Operations, Lagos Water Corporation, while taking a technical session, enumerated the functions and capabilities of female engineers and how they could leverage technology to preserve the environment.
Speaking on the theme, she reeled out measures against air pollution for healthy living and livelihoods.
Taiwo said air pollution was a major global problem that caused health challenges and could contribute to climate change issues.
She said environmental engineers play a vital role in reducing air pollution, adding that they design and implement solutions to control emissions and develop new technologies to clean up polluted air.
She listed some major contributions of women engineers in tackling pollution to include innovations and technology development in various sectors, sustainable energy as well as Research and Development.
By Grace Alegba