The Eighth Session of the Conference of the Parties (COP8) to the WHO Framework Convention on Tobacco Control (WHO FCTC) is two months away. Taking place in Geneva, Switzerland from October 1 to 6, 2018, it will focus on topics such as the shaping of a medium-term strategic framework, which will determine the actions to be taken by the Parties over the next five years, and the advances and challenges revealed in the Global Progress Report on Implementation of the WHO Framework Convention on Tobacco Control.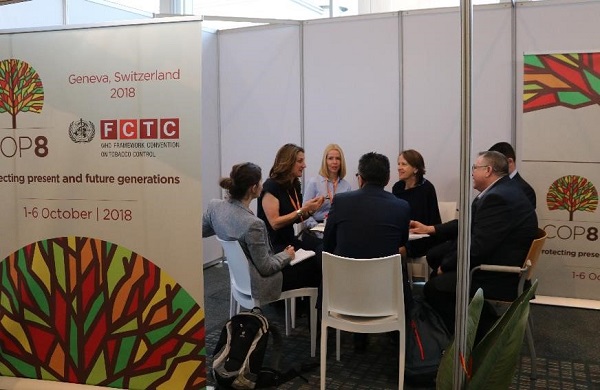 The conference will also be the starting point for a wider application of the WHO FCTC not only for tobacco control, but also as an international treaty to support sustainable development, fight climate change and defend human rights.
Indeed, various steps in the production and disposal of tobacco products harm the environment and contribute to global warming. Parties have engaged in promoting sustainability what has prompted UN member states to include the WHO FCTC as a target in the 2030 Agenda for Sustainable Development.
Tobacco harm reduction can accelerate the achievement of some of the SDGs. The most immediately relevant are the following:
Goal 3: Ensure healthy lives and promote well-being for all at all ages.
Goal 12: Ensure sustainable production and consumption patterns.
Goal 13: Take urgent action to combat climate change and its impacts
Goal 15: Protect, restore and promote sustainable use of terrestrial ecosystems, sustainably manage forests, combat desertification, and halt and reverse land degradation and halt biodiversity loss
Goal 14: Conserve and sustainably use the oceans, seas and marine resources for sustainable development
Vaping products are playing a huge role in achieving SDG 13,14 and 15. We all know that cigarette butts are the most littered item in the world. Over 4.5 trillion cigarettes are littered worldwide each year. Smoking is costly to our environment. Littered cigarette butts leach toxic chemicals into the environment and can contaminate water. The toxic exposure can poison fish, as well as animals who eat cigarette butts. The plastic fibers in cigarettes are non-biodegradable, meaning they won't organically break down from living organisms. Once vaping products phase out traditional cigarettes we will see a welcomed improvement of the climate.
Since E cigarettes are an aid in smoking cessation, harm reduction can help in achieving SDG 3. If by 2030, we are to "reduce by one third premature mortality from non-communicable diseases through prevention and treatment", tobacco harm reduction should definitely be on the agenda. Tobacco related diseases are responsible for killing up to 7 million people every year. With harm reduction products like e-cigarettes being at least 95% safer than cigarettes, they should be encouraged.
A multi-pronged approach to tobacco harm reduction in the low-and middle-income countries of sub-Saharan Africa, that incorporates both tobacco consumption and production, is needed. Harm reduction has multiple benefits for the smoker, non-smoker, economy and environment as well. It is high time WHO FCTC embraced harm reduction in the fight against smoking.
By Joseph Magero (Director, Campaign for Safer Alternatives)