Newly appointed Resident Representative for UNDP in Nigeria (who will also serve as UN Resident and Humanitarian Coordinator) has taken up her position in Abuja. Before coming to Nigeria, Ms. Fatma Samoura, a Senegalese national, served as Resident Representative for UNDP Madagascar and as head of the UN System in the country from October 2010.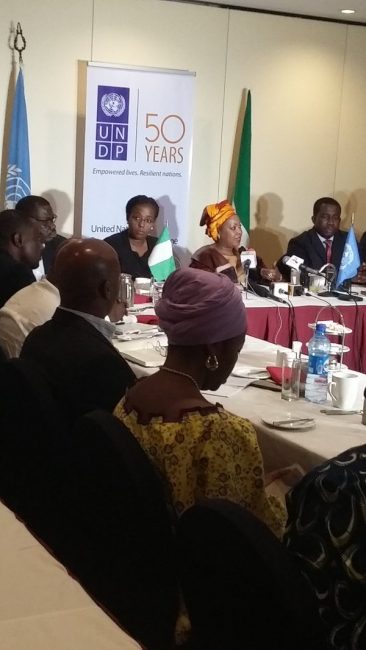 Ms. Samoura began her career in the UN 21 years ago when she joined the World Food Programme (WFP) in Rome, Italy.
Ms. Samoura has served in different capacities including as WFP Country Director in Guinea (2009-2010), Cameroun (2005-2007) and Djibouti (2000-2005). In addition to serving at the WFP headquarters in Rome, Ms . Samoura has covered numerous complex emergencies including in Kosovo, Liberia, Nicaragua, Afghanistan, Côte d'Ivoire, Sierra Leone and East Timor. She once consecutively served as Deputy Humanitarian Coordinator for the UN Office for Coordination of Humanitarian Affairs (OCHA) in Eastern Chad (2007-2009) and Niger (2010).
Following her arrival at her new duty station, Abuja, Ms. Samoura has held a series of meetings with UNDP Nigeria Country Office staff and management as well as the UN Country Team. She used these opportunities to gain first-hand information from Staff and Heads of Agencies on how the UN is responding to and supporting the government of Nigeria in addressing the numerous challenges faced by Africa's largest economy.
Ms. Samoura will continue engaging with all partners in the country in order to galvanise the much needed support for effective delivery of development solutions that will strengthen gains Nigeria has made in the recent past.
In a recent statement, she disclosed that the UN's focus in Nigeria in 2016 is to enhance transparency in the public sector, conflict prevention and peace-building.
"For the country to succeed in preventing corruption from taking place, the present political will needs to be supported by strong institutions," Samoura said.
According to her, the UNDP would continue to provide the support to the Federal Government to ensure the country's success in the fight against corruption.
"We will continue working closely with the media, civil society organisations and strengthen our partnership with the Presidential Advisory Committee on Corruption.
"We will also work with the National Assembly and other anti-corruption agencies in order to achieve a culture of integrity in the country.
"The role of the media in shaping public opinion and advocating transparent and accountable leadership cannot be over-emphasised," Samoura stated.
On the humanitarian situation in the North-East, Samoura stated that the challenges faced by people in the region were enormous and required urgent attention.
She said UNDP's support toward the situation in the region had been channeled through provision of training opportunities that empowered victims of insurgency with vocational skills.
Samoura added that UNDP had commenced the implementation of a project that focused and addressed issues related to de-radicalisation, counter-terrorism and migration beyond livelihood-related interventions.
She said the UNDP was a co-lead institution in the Early Recovery and Livelihoods Sector Working Group in Nigeria.
"The working group had identified four key areas of integrated programming in Nigeria which include; Mine Action; Debris & Waste Management; Emergency Livelihoods and Recovery Shelter," she said.
The UN Official stated that early recovery interventions would address recovery needs that arose during the humanitarian phase of the situation in the North-East.
According to her, the interventions are being carried out using humanitarian mechanisms that aligned with development principles.
"These interventions will enable people to use the benefits of humanitarian action to seize development opportunities, build resilience and establish a sustainable process of recovery from crisis".
Samoura also said that there were UN efforts directed at supporting and promoting peace-building, conflict prevention and social cohesion in ensuring that future conflicts were prevented.
The UN official said the efforts were all part of the framework of a National Infrastructure for Peace in Nigeria.
She added that the UN was using the framework to harness efforts at Federal, State and Local Governments by bringing together relevant stakeholders in addressing issues that would prevent future conflicts.
"We will keep providing support toward enhancing our early warning, response mechanisms and programmes, and expand channels for dialogue aimed at peaceful co-existence".