Farmers in southern Kaduna are expected to generate N5.850 billion annually from rubber plantation, according to Dr. Wuranti Valla, an official of the Rubber Research Institute of Nigeria (RRIN) in Benin City, Edo State.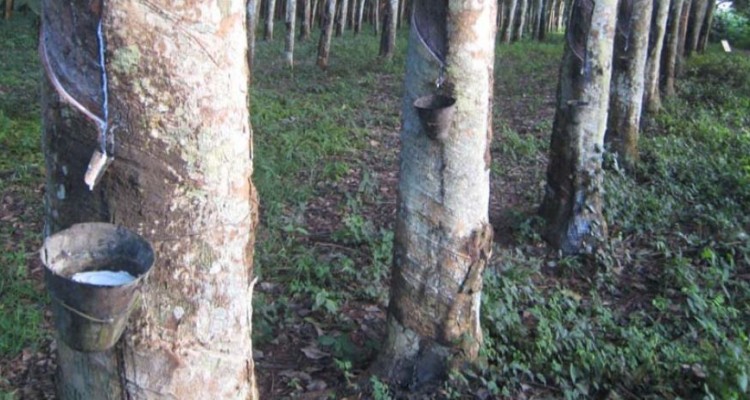 Valla, a Chief Research Officer in the institute, told the News Agency of Nigeria (NAN) on Monday, April 9, 2018 in Manchok that 52 farmers, including the state government, had cultivated about 52 hectares of rubber plantations in six local governments.
"Of the 52 farmers, 12 are from Manchok town in Kaura Local Government. They cultivate a total of 12 hectares of rubber plantations. The least farmer has 450 rubber trees while some have up to 2000 trees," he said.
He said that the remaining 40 farmers were scattered in five local governments – Jema'a, Kagarko, Jaba, Zango-Kataf and Sanga.
According to him, farmers in Manchok, who planted in late 2007 when RRIN introduced the Rubber Project in the southern part of the state, have commenced tapping since October 2017.
He said that the state government's plantation, which is located in Sanga Local Government, was also being tapped.
Valla, who described the project as a huge success, said that the farmers would "soon start smiling to the bank after about 10 years of investment, labour, hard work and endurance".
He said that each hectare contained 450 rubber trees, adding that a kilogramme of rubber currently sells at N250 in the international market.
"Rubber is money because a single three can produce about 1,000 kilogrammes of rubber annually. If you multiply N250 by 1,000, you will get N250,000 annually per tree.
"For those with 450 trees, it means N112.5 million per hectare. If you value the 52 hectares being cultivated in the area, we are talking of about N5.850 billion annually.
"The market is there because the demand for rubber is high. It is the major raw material for companies manufacturing tyres, tubes, shoes, condoms, balloons, hand gloves, surgical instruments, among many others uses.
"Already, there is a company from Delta State that has commenced tapping of about three farms in Manchok, but RRIN is making arrangement to buy off the rubber directly from the farmers to ensure a ready market," Valla said.
He said that agro-allied industries would soon spring up in the area following the growing of rubber plantations.
"The weather is friendly and the soil is conducive for rubber trees. Farmers in this part of the country should take advantage of the project to improve their earnings," he said.
One of the farmers in Manchok, Mr Danladi Nache, who spoke with NAN, said that he was among the few farmers that keyed into the rubber plantation initiative when it was first introduced in Manchok in 2007.
Nache described the 10 years of hard labour, huge investment and hard work required to nurture the rubber trees to maturity as a "herculean task".
"I planted 1,344 seedlings in 2007; by April 2009, 860 had died, leaving only 484. I had to constantly replace the dead ones and now I have about 900 trees, out of which about 200 are being tapped," he said.
He identified some of the challenges to include constant watering after planting the seedlings due to shortage of rain between November and April, for the first three years.
Other concerns, he said, included attack by termites, bush fire, encroachment by herdsmen and vandalism by criminals that keep thwarting all efforts to fence the plantation with barbed wires.
"It has not been easy, but I am glad that I remained focused and resolute to have come this far, and I am confident that my years of hard labour will finally pay off, now that my trees are being tapped," Nache said.
He thanked the RRIN for all the technical support, including local and foreign training to equip the farmers with all the basic knowledge and skills required to maintain rubber plantations.
Another farmer, Mr Leo Shekari, a civil servant, who has about 200 trees in his plantation in Manchok, said he had to cross so many hurdles to nurture the trees to maturity.
Shekari, who said that the plantation would occupy most of his time after retirement, declared that he had no regrets in spite of the years of endless toils and investment to ensure that the trees survived and grew to maturity.
"I am happy to say that my plantation will be due for tapping, hopefully, by 2019. I am also confident that my children and their grandchildren will tap from the economic gains of my years of labour," he said.
On his part, Malam Tagwai Sambo, the Chief of Moro'a, who also has about 500 rubber trees already being tapped, described the development as a step toward opening the land for more investors.
"We embraced the initiative when it was introduced in 2007. Not only did we plant the trees, we encouraged others to do so. I personally donated about three hectares to RRIN for demonstration.
"The Kaduna State Government has equally given the institute 20 hectares so as to expand the cultivation of the economic tree in the southern part of the state.
"The rubber trees currently being tapped, including my own, have shown that rubber trees not only flourish in our land, but could also provide high quantity of quality rubber," Sambo said.
The royal father, however, appealed to the RRIN to ensure ready market for the farmers so that they could reap the benefits of their hard labour, endurance and perseverance.
Meanwhile, the institute's Head of Field Operations in Manchok, Mr Nwadiei Ugo, has said that the yield of the rubber plantations in Manchok were encouraging and had proven to be of high quality.
Ugo particularly expressed surprise that 20 per cent of the trees currently being tapped in Manchok were filling their cups in the first five days as against just trickles usually recorded, when tapping a new plantation in the south of the country.
"We had to use a one litre cup instead of half litre to avoid wastage because of the high volume of the liquid rubber that flows from the trees.
"Besides, only few water content was discovered when we subjected the liquid rubber to test to determine the quantity of the coagulated rubber content. This is a further proof of the high quality of the rubber," he said.
Ugo called on other farmers to key into the project, pointing out that rubber plantation had huge returns on investment.
"We have even introduced inter-cropping to allow farmers to cultivate other food crops alongside the rubber," he stated.
By Philip Yatai