The Blue and Red Rail Line projects currently embarked upon by the Lagos State Government is one major means of curbing greenhouse gas (GHG) emission and a major drive towards attaining net-zero in the state.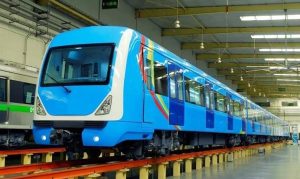 Michael Bankole, a Deputy Director and Head of Climate Change and Environmental Planning in the Ministry of Environment and Water Resources (Office of Environmental Services), made the submission in an interview with EnviroNews while shedding some light on the sustainability of the project in its bid to achieving net-zero emission in Lagos State.
"The Blue Line project is very sustainable; it is something that the state government has been working on over a couple of years and it has seen the light of the day, and the government is putting everything in place in ensuring that the project is maintained in our drive towards achieving climate resilience and sustainable environment.
"Lagos State Government has a Climate Action Plan, which is applying mitigative and adaptive action so we can have a climate resilient and sustainable environment, and two of the projects that the Lagos State Government is doing are in the transportation and energy sector.s In transportation, we talked about the Blue and the Red Line projects; in energy, we are deploying renewable energy to schools, offices and even in various government establishments.
"All these are as a result of the proper plan by the state government because, in the Ministry of Environment, what we did was we take down an emission inventory because when we talk of climate accounting, we must be able to take down the number of natural gas within a geographic location, and when we did the emission inventory, we did it based on transportation and renewable energy.
"We know that this greenhouse gases are one of the nauseating effects of global warming so the more we are able to do nature-based solution projects, the more we are able to do adaptive projects, the more we move towards net-zero. Like I said, net-zero is not the absence of greenhouse gases, it must be key to steady decline of greenhouse gas, the projects that offset the greenhouse gas so when both of them come to be at the same level they will nullify themselves. So, Lagos State and for us in Climate Change Department are committed to getting the data so that we can advise our principal on projects to embark upon," he maintained.
Bankole, who confirmed that, for several years now, the Lagos State Government Secretariat in Alausa and some other government facilities have been utilising renewable energy in their daily activities, said: "We believe in testing a project before asking other people to go into the project. Renewable energy sources such as gas are being used by some of the government establishments such as the Lagos State Environmental Protection Agency (LASEPA) because of the air quality and nature of their work as they have their laboratory being powered by renewable energy on full time basis.
"Also, we just completed a study on gas and its assessment into energy stage from small-medium enterprises. The consultant that worked on the project looked at energy efficiency in Nigeria and Lagos and what way to go with gas to the energy sector and one of their recommendations is to deploy different options in energy solutions.
"We also have a component whereby after the delivery of the recommendation we spoke to practitioners and one of the practitioners suggested that if we want to do a solar project and you don't have the capital, come to us we will fund it and it will be a mortgage. These are the kinds of things we are recommending in the environment. You must also note that the state government is serious about this alternative energy source, which is being taken care of by the Lagos State Electricity Policy."
Professor Emmanuel Oladipo of the Geography Department of University of Lagos, Akoka, is of the opinion that the source of energy for the proposed project by the Lagos State Government will go a long way in determining the level of seriousness of attaining net-zero.
"The idea behind that type of project is not that there would be no emission completely, as long as electricity is going to be generated, it the source of that electricity that will determine whether there is emission or not. And the only source of electricity in Nigeria for now where you can talk about more or less zero emission is the hydropower, the amount of the hydropower cannot work for Lagos because transmitting hydropower is creating a lot of losses so, therefore, we cannot be aiming at zero emission."
Professor Oladipo, while shedding more light on the concept of net-zero emission, noted: "Net-zero does not mean we cannot emit at all, it's simply saying that whatever we are emitting we should have the capacity to absorb it. If we are emitting greenhouse gasses from some of our activities, we should have certain ecosystems like trees and forests that can absorb the carbon-dioxide that we are generating to survive. As long as we are able to enhance the capacity of ecosystem to absorb much of these, keep the wetlands, reforest our environment and making sure that at the same time we are mitigating against whatever we can from the source of generation, then we can be moving towards zero-emission."
The scholar however added that the state government must take people at the hinterland very serious in its drive towards achieving the set goals of net-zero emission.
"The development pattern in Nigeria has always been in the favour of urban people and unfortunately that is going to continue for a very long time to come because that is where sources are generated. Taking the mission of net-zero to people at the rural area will be a bit difficult to attain because there is no way the main source of renewable source of energy like solar which is one of the best zero emission system can proclaim massive industrial development.
"Gas is also emitting but it is much lower than the other fossil fuels like diesel so what Nigerians should do therefore is that, the rural people can benefit from that if all our gas pipelines (for instance) are made to go through all local government headquarters in Nigeria whether in the urban or rural areas they should have terminals where this gas can be collected and bought at cheaper rate, so that people will stop cutting down trees to use as firewood.
"With this we'll be moving towards net-zero because we will be reducing the amount of GHG emission from the environment. That is the type of what countries like Qatar is doing as part of its developmental programme and that is what the Federal Government of Nigeria is doing, talking about energy transition plan in which we want to use gas as a means of transmitting from any fossil to more or less non-renewable," he stressed.
Sulaimon Arigbabu, Executive Secretary, Human and Environment Development Agenda (HEDA) Resource Centre, in his submission admitted that, over the years, the policy of the government has remained stable so that is why the project has been a priority for the Lagos State Government.
He, however, advised that the government should consider adopting the compressed natural gas (CNG) for the Lagos State Mass Transit Bus (LAGBUS) and the electric powering of the blue and red rail lines projects, in terms of sustainability.
"I will say the commitment of the state has been sustained but investment itself cannot be said to have been sustained as it were because if it is private sector investment they probably would have run out of resources.
"There has been huge improvement in the energy sector especially in the solar technology such that there are products today that can help small households to power some of the basic utilities that they require, of course the cost is a bit much especially looking at the minimum wage. This is where the government has to come in. I know that Lagos State Government is working on pushing out a pilot in some communities where they are using some places as model where they can introduce the solar technology.
"While introducing Independent Power Supply, government can have energy farm close to the industrial areas where gas will be an option, government could also help with funding in terms of loan to organisations, it can be in form of conversion where it is possible or a subsidised investment that can bring energy plant near them that can service this industrial cluster.
"These are critical for Nigeria to attaining net-zero, gas is important because gas is going to be our transition energy. Right now, Nigeria is heavily dependent on diesel and petrol where we are one of the highest gas flaring nations in the world so if in the interim we can harvest the gas and use it to power our homes, small businesses the investment and savings can be used to improve other sources of energy. Not only will it help the country in cutting of emission, because that is a strong-force for us in terms of emission it will be cutting emission from gas, it will also help in cutting emission from abandoning diesel and petroleum for gas which is a cleaner with lesser emission then we can use the money saved from that and invest more fund in greener technology that can fast-track our journey to net-zero in 2060," he posited.
By Ajibola Adedoye