A group of experts who spoke at a recent gathering has expressed reservations over the dangers posed by the genetic engineering to food safety.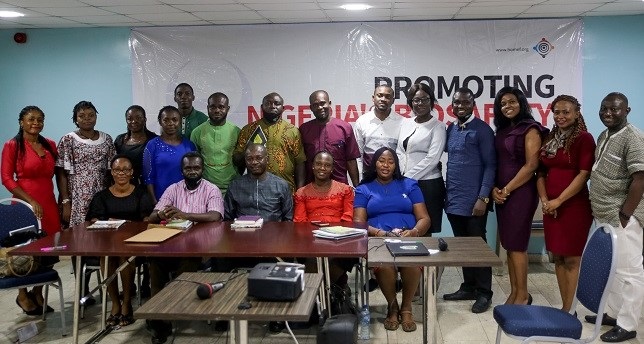 At a Media Training on Biosafety held physically and virtually on Wednesday, October 14, 2020 in Port Harcourt, Rivers State courtesy of the Health of Mother Earth Foundation (HOMEF), a gathering of journalists was told that Nigeria is probably not ready for emerging technologies such as gene drives and synthetic biology that produce genetically modified organisms (GMOs).
Genetic engineering, which is the deliberate modification of the characteristics of an organism by manipulating its genetic material, is usually applied to resist herbicides, and kill particular pests, such as is the case for Bt Cotton, Bt Maize and Bt Cowpea.
Director, HOMEF, Nnimmo Bassey, in a presentation titled: "Who needs GMOs? Is Nigeria Ready for the Emerging Technologies-Gene Drives, Synthetic Biology?", stressed that the process enables organisms that can survive direct application of herbicide that would kill conventional crop by being glyphosate tolerant.
Bassey described glyphosate, which is used to kill weeds and grasses that compete with crops, as being potentially carcinogenic – meaning that it can induce the growth of cancerous cells in humans.
However, while the World Health Organisation's International Agency for Research on Cancer formally classifies glyphosate as a "probable carcinogen", the Environmental Protection Agency (EPA) in the US classifies glyphosate as a Group E chemical, which means "there is strong evidence that it does not cause cancer in humans".
According to the HOMEF head, while engineering plants to tolerate herbicides can create superweed (a weed that has evolved characteristics that make it more difficult to manage, due to the repeated use of the same management tactics), engineering crops to act as pesticides (such Bt crops) also has the likelihood of producing super pests – pests that have developed resistance to pesticides.
He described food safety as food being safe and adequate in quantity, quality and appropriateness; being available from natural sources; being accessible and affordable; as well as a right to feed in dignity.
While lamenting the fact that patented seed outlaws seed-saving and reduces self-reliance and that labelling does not work in Nigeria's socio-cultural context, Bassey called for food sovereignty and freedom from seed colonialism.
Dr. Casmir Ifeanyi, a Medical / Molecular Microbiologist who is of the University of Abuja, examined GMOs and their implications for Nigeria.
He said that as the production and distribution of GMOs and products containing GMOs are increasing in Nigeria, concerns must be focused on GMO Implication for human or environmental health and related socio-economic challenges.
Amid claims that it promotes resistance to the maruca insect, he queried the criteria for developing GM cowpea in Nigeria, saying: "The development of GM cowpea comes at a time when both the production and yield of conventional cowpea have been increasing in Nigeria in recent years."
Dr. Ifeanyi called to question the capacity of the National Biosafety Management Agency (NBMA).
"The NBMA does not have the capacity to extract a genome, or sequence, edit or modify it in any way. The resources for using the GM technology are highly restricted; the agency's laboratory is a small portacabin outside its main building."
He argued that Nigeria's uptake of GM technology is situated within the government's policy focus on agriculture as a business, adding that it can increase food insecurity and potentially harm nutrition.
"Poor farmers using GM crops will ultimately be forced to buy patented GM seeds, resulting in loss of control over conventional seeds for all farmers but decreasing women farmers' control over production even further," he said.
He listed agroforestry, integrated weed and pest management system and polyculture systems as "sustainable alternatives to farming system for increased yield and more ethical relationship with our lands".
"The risk assessment of GM crops for human nutrition and health has not been systematic. However, adverse microscopic and molecular effects of some GMOs in different organs or tissues have been reported. Zero risk is not possible.
"So, if anybody ever tells you that GMOs are completely safe for consumption, it's not true. We just don't know enough about them to make such a definitive statement. A lot of evidence actually point to the contrary," he said.