A team of renowned experts gathered on Saturday, June 29, 2019 at the Alex Ekwueme Federal University, Ndufu-Alike, Ebonyi State to brainstorm over issues related to the nation's sustainable development challenges.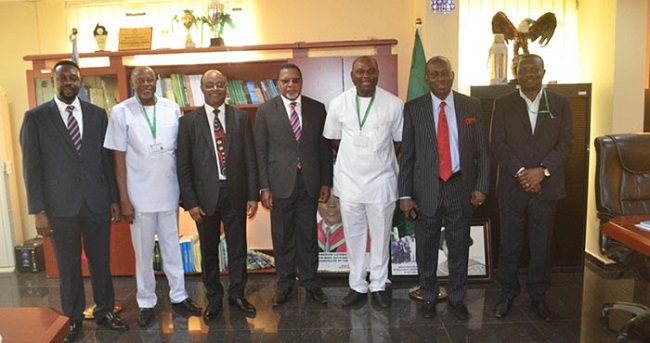 The first International Conference of the institution's Faculty of Management and Social Sciences (FMSS) was themed: "Accelerating Sustainable Development in Nigeria; Prospects and Challenges".
The conference was graced by scholars of international repute such as Prof Charles Soludo, former CBN Governor; Prof. Sonny Nwankwo, Academic Provost of Nigerian Defence Academy; Prof. Paul OmojoOmaji, Vice-Chancellor emeritus, Salem University; and Dr Cresantus Biamba from the University of Gavle in Sweden.
While welcoming the guests, Vice-Chancellor of the institution, Prof. Chinedum Nwajiuba, stated that hosting and participating in relevant conferences and workshops in and outside the university have become part of the institution's system as, according to him, they provide opportunities for growth and march to world class, bring heroes to showcase to the younger generation.
In his opening address, Prof Icha-Ituma stated that while the sustainable development goals are of immense consequences, they are under-studied in the Nigerian context. He pointed out that the conference responds to the need for a greater understanding of various aspects of sustainable development and their applicability in the Nigerian context to achieve the SDG goals. He further pointed out that the conference is meant to go beyond mere intellectual stimulation to occasion positive change in Nigeria.
The first keynote speaker, Prof. Soludo, who delivered a lecture entitled "New Economy, Geo-demographics and the Challenge of Sustainable Development", maintained that human capital is the silver bullet for achieving sustainable goals. He postulated that the greatest resource of Nigeria is not oil but rather its citizens because the importance of oil is declining. He advised government to invest more in human capacity building in order to achieve the sustainable development goals, which can be done through investing in education, health and other regenerative areas.
Prof. Soludo stated: "If you want to predict the future of this society, you consider the state of education." He maintained that the power of language and identity can go a long way to ensuring human capital development. He urged the citizenry to stop the "Bleaching Syndrome" and focus more on education, adding that human capital is the next oil in sustainable development goals.
The second keynote speaker, Prof. Nwankwo, who lectured on "Interrogating the Praxis of Sustainable Development and Entrepreneurship" posited that the approach to the issue are multilateral actions that approximate the quest for the "final theory" which comes from "end of geography" to revisionism. He further maintained that the argument can be extended to pose question on whether there was such a thing as national competitive advantage, which he said depends on three things that include strength of competitive advantage of individual/firms, access to scarce resources and support network.
Professor Paul Omaji spoke on "Leadership, National Security and Sustainable Development". He stated: "In all matters pertaining to national security and sustainable development, leadership pre-exists and is pre-eminent." He averred that, in order to accelerate national security and sustainable development, the right people should be in position of leadership, which in overall creates jobs for the people.