"Improved governance, effective collaboration, and multi-pronged financing are essential towards accelerating the state of sanitation and hygiene in Lagos considering the exploding population in Nigeria's commercial nerve centre."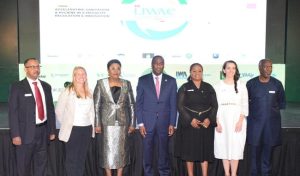 Those were the words of the Governor of Lagos State, Mr Babajide Sanwo-Olu, while speaking at the opening of the 4th Lagos International Water Conference (LIWAC) on Wednesday, July 5, 2023.
Represented by the Deputy Governor, Dr. Obafemi Hamzat, Sanwo-Olu added that "concerted efforts are underway to ensure a more liveable city with a well-designed regulatory framework".
Themed: "Accelerating Sanitation and Hygiene in a Megacity: Regulation and Innovation", the two-day LIWAC was premised on seeking a sustainable solution to sanitation and delivery challenges in a highly populated city-state.
Welcoming guests, the Executive Secretary of the Lagos State Water Regulatory Commission (LASWARCO), Mrs 'Funke Adepoju, explained that since inception in 2020, the gathering of water and sanitation stakeholders had exchanged ingenious ideas to find solutions to such challenges for Africa' s most populous city.
Adepoju stated that the previous editions have generated the needed attention to salient aspects to water governance and improved water, sanitation and hygiene (WASH) services.
"This year's theme requires us to brainstorm on the challenges of safely managed sanitation services, financing options, utilising technology for innovation and the major role of regulation in effective faecal sludge management in the sanitation value chain," she stated.
In his remarks, Dr Mobolaji Gaji, Permanent Secretary, Office of Environmental Services, Ministry of the Environment, who commended the leadership of the Water Regulatory Commission for the apt theme, said: "Lagos is confronted with infrastructure deficit in meeting its sanitation needs due to the natural high water table and overpopulation index. Despite the challenges, we will forge ahead with the implementation of resolutions from this important meeting to meet the SDG 6:"
Goodwill messages presented by the Permanent Secretary, Federal Ministry of Water Resources, Mrs Didi Walson-Jack, centred on the need to galvanise efforts.
"I commend the bold vision of bringing experts together to discuss the access to clean water supply and infrastructure to ensure sanitation delivery must be prioritised in Lagos and nationwide to protect the citizens fundamental rights," she said.
Other non-governmental groups stressed the need for stronger partnerships, development of a road map for WASH in schools and youth groups.
While sharing insights with policymakers, Wateraid's representative said: "LIWAC is a marketplace of global ideas, we hope the ideas generated will be actualised, and civil society groups must collaborate to push for its implementation."
One of the keynote speakers, Mr Mecuria Assefaw of the Africa Development Bank (AfDB) who said water supply is the most significant of the Sustainable Development Goals (SDGs), lamented that sub-Saharan Africa lacks infrastructure and huge financial deficit.
Hem however, emphasised: "With a clear regulatory framework and adequate capacity, the Africa Development Bank is committed to invest to support regional member countries to bridge the financing gap to the tune of $20 billion by 2030."
Addressing the meeting, Ms. Emily Woods of the Sanivation in Kenya shared the innovative methods of reusing faecal sludge for resource recovery to create wealth in Kenya.
Dr William Muhairwe, Executive Director, Global Water Leaders Group, United Kingdom, called for the promotion of good governance in the water and sanitation sector just as the Senior Economist and Regulator, Federica Brenner, shared the Beunos Aires experience, saying: "To achieve success, regulation should be practiced, expand learning from childhood, register vulnerable neighbourhoods, provide alternative faecal sludge management models for poor households, and a strong political commitment is also very important."
The second day featured brainstorming sessions as water and wastewater experts as well as business owners in the sanitation delivery sector exchanged ideas.
Mr Timeyin Uwejamore taught a group on the market economy of faecal sludge management and approaches to ending open defecation, while ways of financing non-sewered sanitation was taken by Judith Warmarte of the World Bank, even as the Chief of Party, Lagos Urban Water and Sanitation Hygiene (LUWASH), Mr James Racicot, took participants through partnership for improving sanitation using the Lagos Regulatory model.
Dr Ncube Mthokozisi of the AfDB enlightened on strategies to improve sanitation services through the private sector partnerships model options, Mr Sam Azimi took a class on better usage of water in cities and Francis Maluki of the Water Services Regulatory Board, Kenya, took another group on "Regulating Sanitation as a Common Good."
The core sub-topics "Effective Regulation, key to enhancing sanitation and hygiene services" and "The new regulatory arrangement for sanitation" were also treated in-depth to underscore the very important role of regulation.
Sanitation experts and professionals in the built environment industry discussed citywide inclusive sanitation models with Florence Laker of Uganda and Dr Basirat Oyalowo of the University of Lagos sharing the Pan African vision for housing and sustainable development, emphasising critical town planning methods to include peculiar sanitation for the underprivileged.
In all, the largest convergence of water and sanitation experts, innovative business owners, government officials and representatives of the United Nations international agencies provided the much-needed platform to exchange ideas on water supply, gradually end open defecation, as well as manage and reuse faecal sludge specifically to reduce human waste and protect the environment.
The major resolutions were listed to include: an improved political will, capacity building for the staff, government collaboration with development partners, need for decentralisation of waste dumps, entrenching the independence of regulatory agency, adequate funding, accountability, a strong legal backing, providing FSM services in informal settlements, septic tanks being properly built, leveraging on the private sector, funding behavioural change communication through public relations strategies, capturing the urban poor in processes, construction of more toilet facilities and renovating existing ones for the public.