Environmental experts and other stakeholders in the North-West region in Nigeria have called for the strict enforcement of laws on preservation of the environment to check the recurrence of flooding and other environmental disasters.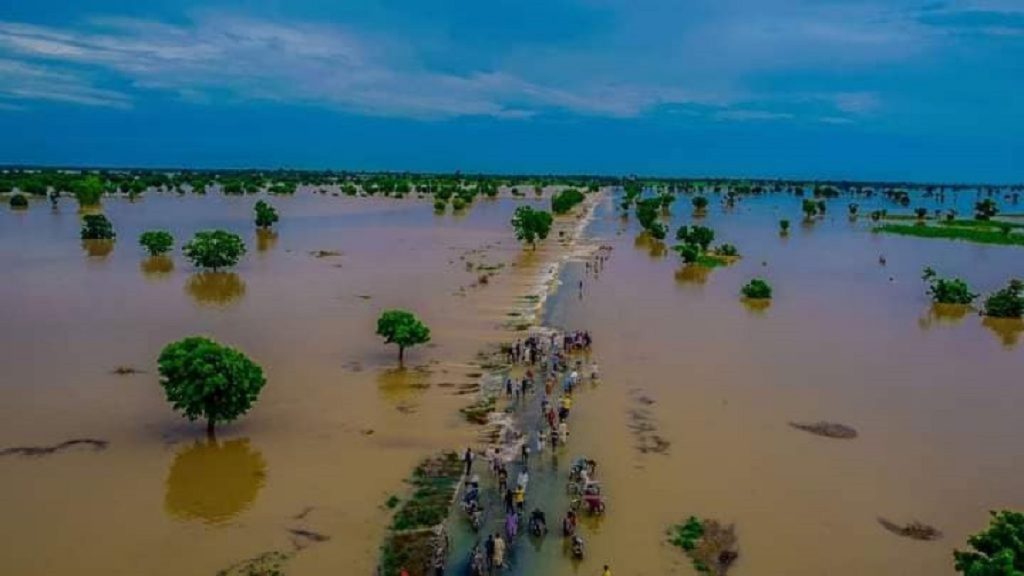 In responses to a survey, stakeholders lamented that the daily habits of most people are hardly "environment-friendly", thus providing conducive atmosphere for flooding and other related disasters to occur.
They also faulted some personnel of environmental laws enforcement agencies for not only failing in their responsibilities, but also aiding and abetting practices inimical to the environment.
They warned that unless those in the habit of erecting structures on waterways, disposing garbages in drains or violating town master plan provisions stop the acts, flood disasters would continue to occur, with all its distasteful consequences.
The stakeholders also stressed the vital role that could be played by town planners, but lamented that, most times, directives on doing the needful are hardly respected by individuals, and sometimes even the authorities.
Dr Nurudeen Abdullahi, Territorial Coordinator, National Emergency Management Agency (NEMA), Kano, said most environmental disasters could be attributed to unwholesome conduct of the people.
"The Federal and State Governments are doing their best but there is need for enforcement as early warning prediction alone, is not enough.
"There is high resistance to warning predictions and we have people who always insist on doing things their own ways, no matter the danger; someone will say this is where my forefathers lived and where I was born, and will therefore not leave the area," he observed.
He stated that the role of town planners in redressing the issue, could not be overemphasised as they are the ones who set the rules on building and allocation of land.
He noted that most town planning agencies limit their activities to satisfying the needs of authorities, no matter how detrimental, instead of insisting on doing the needful.
On the effect of flood on food production, he said that flooding this year impacted negatively on food production as crops were washed away.
"Many farms have been washed away, houses destroyed, and communities submerged; when you are not secured on food, a community or country is at risk," he stressed.
On his part, the Executive Secretary of State Emergency Management Agency (SEMA) in Kano, Dr Saleh Jili, explained that the state government had organised a workshop for stakeholders such as traditional rulers, faith-based and voluntary organisations, on ways of curtailing disasters.
Dr Kabiru Getso, Kano State Commissioner for Environment, also blamed occurrence of most disaster incidents to the recalcitrance of residents, who hardly heed to warnings on environmental hazards.
"The state government, through various environmental agencies, conducted a lot of activities since the warning was given by the Nigerian Metrological Agency (NiMet), yet people considered it a joke.
"Government embarked on series of enlightenment to educate people on their expectations before, during and after the rainy season, but most residents never took the issue with utmost seriousness.
"Therefore, there is need to ensure the enforcement of laws bordering on management of the environment for people to be doing the needful," he said.
SEMA confirmed that 23 persons were killed and 20,399 houses destroyed by flood and windstorm in 25 Local Governments Areas of the state, from April 2022, to date.
The agency further confirmed that 20,399 victims were affected by flood/windstorm, 23 persons lost their lives, 20 persons were injured, 14,364 farms destroyed, and N2.1 billion worth of property lost.
In Katsina State, Commissioner for Environment, Alhaji Hamza Faskari, revealed that from 2015 to date, the State Government had expended over N8 billion in addressing flood, erosion, waste management and other ecological challenges, occasioned by climate change
"The state government, through the Ministry for Environment, assessed the situation in various communities prone to ecological challenges in the state, recommendations were made, and the the problems were addressed.
"The ministry undertook the construction of flood and erosion control structures in 122 sites covering over 150 communities across the 34 local government areas of the state," he said.
Meanwhile, a community leader in the state, Alhaji Musa Bello, observed that attitude of some people towards the environment has not helped matters.
Bello, who is the Ward Head of Sabuwar-unguwa in Katsina metropolis, therefore advised residents to desist from practices that could cause flooding, such as dumping of refuse in drains and waterways.
Prof. Aliyu Tambuwal of Usmanu Danfodiyo University, Sokoko, also noted that human factors aggravated occurrence of flooding in Nigeria.
"In Nigeria, sometimes we are not proactive because the current problem of flooding had been envisaged earlier.
"NIMET released its 2022 rainfall forecast and the likely areas to be affected, just as the Nigeria Hydrological Services Agency did same, and what was anticipated happened; we always wait for disaster to happen before action is taken," he lamented.
But in Kaduna State, some environmental experts noted that incidents of flooding was minimal compared with what obtained in other states, attributing this development to the effort of the state government.
Gloria Bulus, Coordinator, Network for Civil Society in Environment (NCSE), said strategic planning and synergy with all relevant stakeholders were responsible for minimal flood in the state.
Bulus observed that the state was able to control, to a large extent, "man-made" hazards, just as she emphasised that flooding could not be completely mitigated as there were other natural causes.
Yahaya Mohammed, Controller, Safety Awearness and Environmental Support Initiative (SAESI), said that non-compliance with building regulations were some of the reasons responsible for the minimal flooding experienced in the state.
Mohammed said that many structures were erected on drains and in flood-prone areas due to the compromise by some supervising agencies.
However, he commended the state government's efforts at recovery of land, as well as demolition of illegal structures, hence the reason for minimal cases of flooding recorded.
Muhammed Mukaddas, Executive Secretary of SEMA in Kaduna, said that the agency did not work in isolation, but with stakeholders as a team to tackle disasters.
According to him, the agency coordinated all stakeholders in promoting access to multi-hazard early warning systems, another factor responsible for minimal incidents recorded across the state.
He said NIMET prediction on flooding had indicated that Kaduna North, Kaduna South, Chikun and Igabi Local Government Areas would be affected.
He stated that the Nigeria Erosion and Watershed Management Project (NEWMAP), in collaboration with the State Ministry of Environment, installed Automated Flood Early Warning System (AFEWS) in flood-prone areas.
"Christian-Aid had earlier installed flood gauges in three communities of Unguwan Rimi, Bashama and Karatudu in Romi.
"These are clear demonstrations of the state government's collaborative efforts to promoting access to multi-hazard early warning systems in our communities," he said.
On the agriculture sector, Mr Bage Bungwon, Director, Agricultural Services, State Ministry of Agriculture, observed that the annual occurrences of flood had continued to threaten the country's food potentials.
"Flood has washed away several farmlands in the northern parts of the country and this will affect food prices," he said.
Also, an environmentalist with Kebbi State University of Technology, Aliero, Malam Muhammad Idris, described the incessant flooding in some parts of the country as being "human induced" and exacerbated by "human-nature interactions".
"Nigeria's flooding is mostly human induced and exacerbated by human-nature interactions; poor or non-existent drainage system are a major cause of flooding.
"Many residential areas have no drainage system and rely on natural drainage channels.
"Poor waste management is another recognised factor, even as citizens' poor attitude to waste disposal and non provision of waste disposal services by municipal authorities, contribute to flooding," he enumerated.
He added that another factor is the unregulated urban expansion, saying that the country now witnessed high urbanisation rate largely due to insecurity in some parts of the country.
"Nigeria is experiencing high urbanisation rate, largely due to insecurity, and without commensurate provision of urban infrastructure and amenities.
"Kebbi State in particular, agricultural lands are increasingly being converted to residential areas to accommodate housing needs.
"But there is laxity in the implementation of planning laws, resulting in the construction of projects on natural floodplains and storm water paths. This has exacerbated flooding.
"It is not uncommon for town planning officials to accept bribes and overlook issues; these may include unauthorised use of land and alteration of approved construction plans," he added.
On her part, Mrs Mariyatu Suleiman, Project Manger, Zauro PRODA Project, Rima Basin Development Authority, Birnin Kebbi, said they had created awareness on possible flooding.
"We create awareness by distributing what we call 'Action Plan' to Village Heads, Ward Heads and Chairmen of Local Government Councils and Commissioner for Water Resources.
"We often urge them to notify farmers about the quantum of water to be released daily or monthly.
"Then we advise them on the kind of plant they should cultivate across these areas like short duration of plants or long grains, so that even if there is any flood, it may not affect them much," she said.
Suleiman advised farmers to imbibe what she described as "cropping calendar" by obeying advices and instructions from NIMET.