Waste management in line with contemporary realities seems to be of huge concern to environmentalists as well as stakeholders especially in developing countries. This thought was loudly expressed by participants at the First Let's Do It African Conference in Cotonou, Republic of Benin.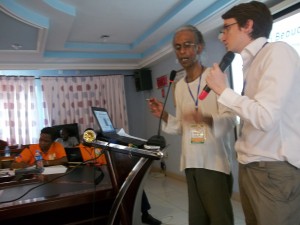 Speaking on the "Causes and solutions of problems in waste and sanitation," Muna Lakhani, representing the Institute for Zero Waste in Africa, noted that in solving the problem of waste management, the world would need to change its thinking.
He exposed that "80% of the world's waste is produced by North America, Western Europe, Japan and South Korea who only account for 25% of the world's population; hence the rich countries are responsible for generating the world's waste."
Muna explained that, with frequent exposure to plastic materials, human beings are at risk of intelligence, learning, and behavioural disorder, delayed development of the foetus and children, spontaneous abortion, uncontrollable body size and shape, increase in prostate size which could lead to prostate cancer, reduction in sperm count, amongst others. This he said, is due to the chemicals utilised in the production of plastics, which are hazardous to human health.
He advocated the Zero Waste Agenda for Africa, noting that Zero Waste is an ethical, economical, efficient and visionary goal that guides people to emulate sustainable natural cycles in which all discarded materials become resources for others. He also identified two factors critical for a good zero waste system viz: A good policy that is implemented and enforced and a regulated minimum price for recyclable material.
On a final note, Muna noted that if Africa and the world at large can make efforts in stopping the production of waste instead of seeking ways to manage and clean up the generated waste, then the world would be more sustainable.
By Tayo Elegbede