Kenyan Clara Rincuni, the new Digital Communications Manager at the Elephant Protection Initiative (EPI), is the EPI Friend of the Month for September. According to her, watching wildebeests, zebras, and other animals move in droves at the Masai Mara in Kenya is humbling and unforgettable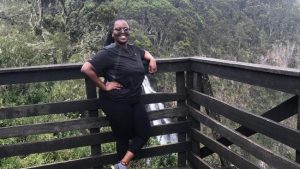 Please tell us a little bit about your childhood. Were you growing up in Nairobi or in the countryside? And were you interested in conservation and environmental issues from a young age?
Yes, I did. I grew up in Nairobi, in an area called Lower Kabete. It's very green and slightly cooler than most of the Nairobi region, so I was exposed to nature at a very young age. In primary school, I was part of the wildlife club, and we would participate in activities such as tree planting and writing environmental pieces for the school magazine. This may have been the beginning of my love affair with nature.
What was the career path which bought you to the EPI?
After pursuing my Bachelor's in IT, I started out my career as a digital strategist for a local advertising firm, then moved to a media company to help them set up their digital communication for a new product while I pursued a Master's in communication. After that, I moved into the NGO space, where I consulted for the World Food Programme. Throughout my career, I have been volunteering my personal time towards nature conservation and advocating for local tourism in a bid to preserve our forests. My passion and technical experience in digital communication led me here.
How would you like to make a difference, for the EPI and for conservation more generally?
The opportunity to help people connect with themselves, others, and their environment better by enhancing communication is what drives me. I want to use my skills to get people to care more about nature, animals, and others. Why? We protect what we care about.
Kenya is, of course, world renowned for its wildlife, including elephants, and its national parks. What have been some of your most outstanding experiences?
The most unforgettable experience I've had was watching the great wildebeest migration while I was at the Masai Mara. Watching the wildebeests, zebras, and other animals move in droves is so iconic and humbling. While on the same trip, we got to see elephants too, but I would say my closest experience with elephants was at the Amboseli National Park and my rural home in Meru.
Finally, please describe your perfect weekend away from work.
A perfect weekend for me starts with a cool but dry morning. I love taking an early walk, just after sunrise, because the air is so crisp, the roads are clear, and mostly what I hear are birds chirping or sheep bleating as they herd. I live on a farm on the outskirts of the city, so there are lots of animals around here. After that, I come back home, have some breakfast, water my plants, tidy up the house, and then head for a swim at the gym. Later, I either meet up with friends or come back home to catch up on some movies, or if I'm averse to noise on that day, I read a book and call it a night.