The European Union delegation in Nigeria has promised to support the country in tackling climate change in an effort to ensure environmental stability and achieve its objectives by the year 2030.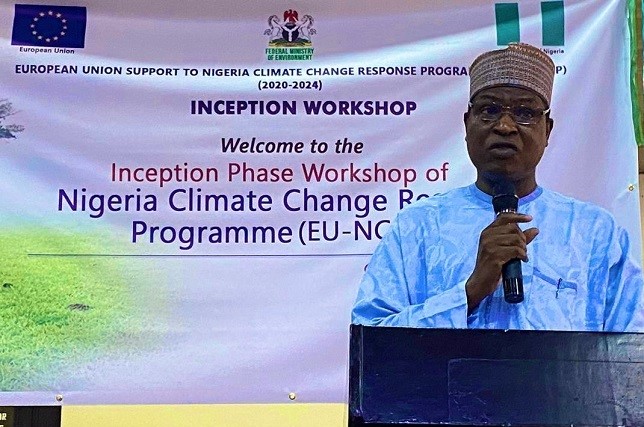 Kathryn Mulvad Thomson, Team Leader and Head of Economic Development/Energy section, made this known in a video session on Tuesday, August 18, 2020.
The video was played during the inception phase technical workshop for the Nigeria Climate Change Response Programme (NCCRP) held in Abuja, the nation's federal capital city.
She said that EU would support Nigeria to meet its 45 per cent conditional target in tackling climate change.
"As our bilateral coverage with Nigeria, we partner with the Federal Ministry of Environment for the implementation for the Nigeria Climate Change Response Programme (NCCRP),'' she noted.
She said the participants at the workshop were instrumental to the success of the programme, as their views would be needed toward the implementation of the Nigeria climate change programme.
Earlier, Dr Peter Tarfa, Director of Climate Change, Federal Ministry of Environment, reiterated government's continuous commitment to environmental stability in the country.
He said that the programme was aimed at working toward fulfilling the commitment Nigeria signed under the Paris Agreement to tackle climate change.
According to him, Nigeria during the agreement-signing ceremony promised to reduce its emission unconditionally by 20 per cent and 45 per cent with support from the international community.
"That is, emission coming from all our economic activities in the country. We will reduce it by 45 per cent with international support.
"EU has offered Nigeria and many other developing countries this support to help meet the target.
"By 2030, will we quantify our efforts as lots of framework and government activities are still going on.
"To meet the target, government for example is promoting solar power, gradually transforming transport system and many more," he said.
Tarfa described as timely and strategic, the support from EU toward ensuring that Nigeria met the 45 per cent conditional target of Nationally Determined Contribution (NDC).
He added that the focus of support programmes on was on communication and on the development of a Measuring Reporting Verification (MRV) system at institutional and sector levels.
The event is a flagship imitative of the European Union under the Global Change Alliance Plus (GCCA) programme.
It was designed to help vulnerable countries address climate change and meet global commitments.
By Patience Longyen