The Environmental Rights Action/Friends of the Earth Nigeria (ERA/FoEN) and the Nigeria Extractive Industry Transparency Initiative (NEITI) will partner to address the myriad of challenges in the oil and gas industry, including holding multinational oil corporations accountable for despoilation of the environment in oil producing communities.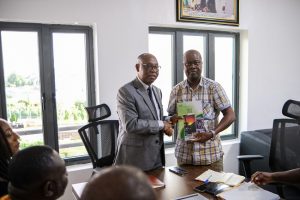 The decision was reached at a meeting of executives of the two organisations in Abuja when the ERA/FoEN team paid a courtesy visit to NEITI's new office complex.
ERA/FoEN Executive Director, Chima Williams, said the visit was to deepen the already existing relationship between the two organisations and explore more ways of collaboration to address the crisis of transparency and accountability in the extractives sector.
Williams used the opportunity to reiterate the importance of ERA/FoEN campaign exposing the underlying reasons behind the flurry of international oil companies divestment in the Niger Delta after decades of extraction, and the need to hold them accountable for the harms of their operations which have affected man and the environment in host communities.
Welcoming the delegation, NEITI Executive Secretary, Orji Ogbonnaya Orji, said that the two organisations have come a long way and would sign a Memorandum of Understanding to deepen civic engagements on environmental justice in managing oil emissions and gender issues, particularly in the extractive industries' host communities.
The MoU is to cover public education and enlightenment, civil society policy advocacy, capacity building on control of toxic and poisonous chemicals such as Carbon Monoxide, Methane and other pollutants resulting from oil and gas exploration in host communities.
Orji also revealed that, following previous engagements, NEITI has set up a desk specifically dedicated to the environment and gender issues with a desk officer.
He further explained that, to meet the challenges of a rapidly changing energy sector, NEITI recently unveiled a five-year strategic plan that took those issues into consideration, as the agency would soon commence the process of reviewing its enabling law.
The NEITI boss urged the non-governmental organisation to carefully study the research publications on environment and gender recently launched by the organisation with the support of the Ford Foundation.