The Environmental Rights Action/Friends of the Earth Nigeria (ERA/FoEN) has commended the Amalgamated Union of Public Corporations Civil Service Technical and Recreational Services Employees (AUPCTRE) for a successful national congress which saw Comrade Benjamin Anthony of Federal Housing Authority (FHA) Abuja emerge as the new president.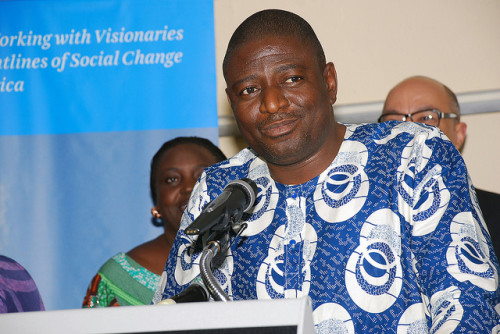 The national congress which held in Ibadan, Oyo State from October 18 to 19 2017, had about 500 delegates from 38 state councils of the union across the 36 states, National Coordinating Councils (NCCs) and FCT Abuja of the federation in attendance. Former president – Solomon Adelegan from Ondo State Water Corporation – lost to Comrade Anthony, who is also the current Federal Capital Territory chairperson.
In a statement issued in Lagos, ERA/FoEN said the atmosphere of calm under which the elections held and the outcomes reflected the deep cohesion and strength of AUPCTRE, which is one of the largest affiliates under the Nigeria Labour Congress (NLC).
Akinbode Oluwafemi, deputy executive director of ERA/FoEN, said: "We commend AUPCTRE for the hitch-free national congress and election which has produced a new president in the person of Comrade Benjamin Anthony. With his track-records as a campaigner for just policies, his emergence as national president gives us hope that AUPCTRE will continue leading the campaign against water privatisation in Nigeria."
Oluwafemi explained that members of AUPCTRE have over the years been at the fore of the fight to get state governments, especially Lagos, to reject Public Private Partnerships (PPPs) in the water sector in favour of Public Public Partnership (PuP).
AUPCTRE is also part of the Our Water Our Right Coalition which embarked on a host of activities including street protests in Lagos to get the state government to expunge "anti-people sections" in the Lagos Environmental Law signed into law early this year.
The ERA/FoEN boss reiterated the organisation's conviction that, with the new helmsman, a new dawn in the campaign against water privatisation has come, even as he added: "With all our local and international partners we will continue to engage with the union on innovative solutions to the crisis in the water sector within the realm of human rights."
"We are confident in Comrade Anthony and his team in steering AUPCTRE in a direction that will not only strengthen state chapters but also reinvigorate their engagement with civil society to guarantee that government policies does not violate the right of any Nigerian to clean, safe and adequate water," Oluwafemi said.