The Nigerian Environmental Society, Lagos Island Chapter (NESLIC), on Friday, June 7, 2019 urged relevant stakeholders to work with the federal and state governments to reduce air pollution.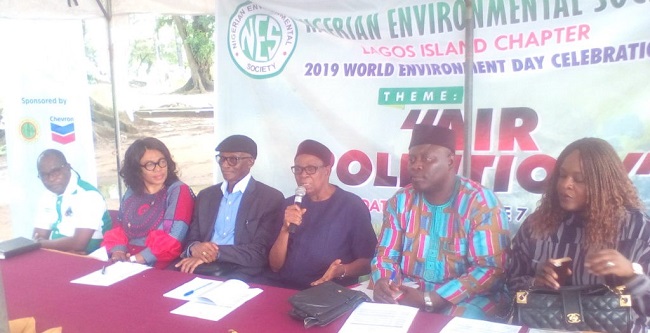 Mr Chuks Umege, the Chairman of NESLIC, made the call at an event to mark the 2019 World Environment Day in Lagos.
According to Umege, air pollution is a menace and as such all hands must be on deck to reduce it.
"Some Nigerian cities are ranked as the worst air polluted cities in the world and NES is not happy with this ranking.
"To change this ranking involves all stakeholders concerned with the environment, the government, the industrial community, the regulatory bodies, the NGOs and individuals," he said.
Umege said that the Federal Government should end flaring of associated gas in the nation's oil industry and ensure use of cleaner fuel by encouraging building new refineries aimed at removing sulphur from fuel.
He said that the industries could introduce gas reuse technologies in oil exploration and production to avoid gas flaring.
Umege said that individuals should use alternatives to generators such as solar system energy and planting of trees within their places of abode.
According to him, traffic wardens, the woman frying beans cake 'akara' at streets junctions and traders in the market are not spared by air pollution.
He said that the National Vehicle Emission Standard must be implemented to check the level of air pollution from vehicles around the country.
Umege said that the nation must work toward reducing energy use, create alternative and cleaner energy source and use of green technology.
He said that everyone should target using environment friendly products.
According to him, some of our choices have local, regional and global effects.
Mr Dozie Irechukwu, a fellow of the NES said political will at national, state and local government levels were necessary to ensure enforcement was laws to reduce air pollution in the country.
The highlight of the occasion includes inauguration of Student Chapter of the NESLIC and awards to organisations that supported the chapter's activities and past chairmen.
By Chidinma Agu