Apparently stirred by Ethiopia's record breaking 350 million trees planted recently, a team of environmentalists in Nigeria has taken up a campaign to go a step further.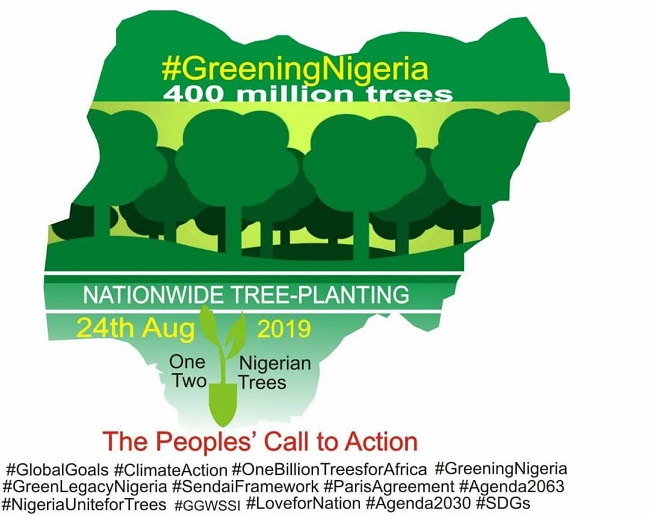 Tagged "Greening Nigeria", the campaign targets the planting of some 400 million trees nationwide commencing Saturday, August 24, 2019. The operation is expected to span about a month.
The campaigners are calling on Nigerians to, on that day, plant no fewer than two trees each in places such as homes, neighbourhoods, schools, churches, mosques, farms, roadsides, hospitals, offices, riverside, parks, forests or pasture fields.
"We are sending a handshake to each one of ourselves reminding us of the environmental dangers facing Nigeria today. As part of the solution, we wish to call upon ourselves to take a bold step on August 24, 2019, to plant two trees each.
"We encourage you to plant mostly seeds or trees that have food, fruit, medicine, and economic value to people, birds and animals. Engage and encourage everyone in the family to join this humble action – but we encourage everyone to bring families and neighbours together to plant to foster mutual love, harmony, unity and peaceful coexistence," says Priscilla Offiong of the Climate Change Network Nigeria, one of the promoters of the initiative.
She lists the project's objectives to include:
To encourage families, colleagues, friends and neighbours to take self-initiatives to contribute in combating the alarming effects of climate change by increasing tree cover in our communities and national spaces.
To discuss and share ideas on practically possible natural ways of combating desertification, deforestation, dry lands, heatwave, and reforestation through collaborative volunteerism.
To raise citizens' active participation in sustainable development solutions that reduce risk of disasters.
Keep Nigeria green as its naturally supposed to be in principle and in practice.
Plant 400 million trees starting from August 24 to end of September.
The hashtags for the campaign are #GreeningNigeria, #GreenLegacyNigeria and #OneBillionTreesforAfrica.