Some environmentalists have called for action against plastic pollution ahead of the commemoration of the 2018 United Nations (UN) World Environmental Day (WED) on June 5.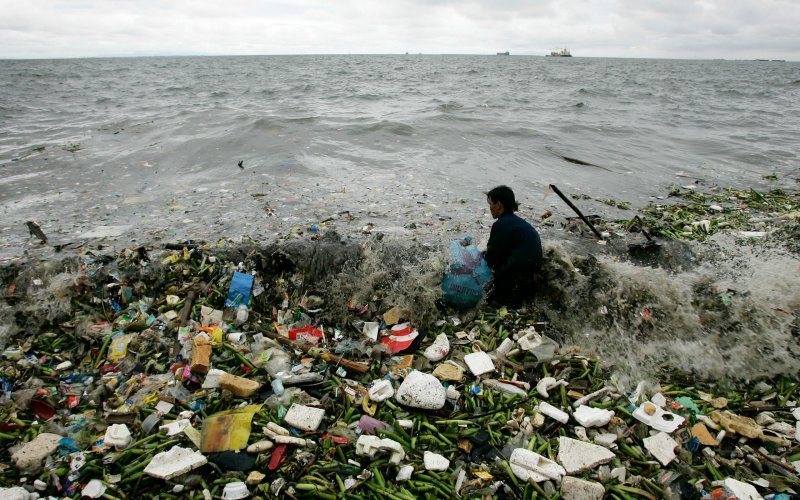 The environmentalists, in separate interviews in Lagos and Abuja, advocated the importance of recycling of plastic products to create wealth and protect the environment.
The WED, which began in 1974, is a day set aside by the UN to encourage worldwide awareness and action for the protection of the environment.
Mr Gafar Odubote of Let's Do It Nigeria, a non-governmental organisation (NGO), said environmentalists in Nigeria would commemorate the day by taking a stand against single plastic use.
"Let's Do it Nigeria and partners are taking a stand against single-use plastic with series of campaigns all over Nigeria to commemorate the UN World Environment Day holding June 5 with the theme: #BeatPlasticPollution.
"WED will be an opportunity to further emphasise the need to bring people's attention to the increasing rate of plastic pollution in Nigeria," said Odubote.
According to him, WED had often served as an opportunity to task the Federal Government on the need to enact policies and laws to fight plastic pollution.
"World Environment Day is a call to action for all of us to come together to combat one of the great environmental challenges of our time.
"While many countries around the world have already banned plastic bags and bottles, Nigeria is yet to do anything about its usage, which is growing uncontrollably in the cities.
"People discard plastic water bottles and shopping bags indiscriminately because the government is yet to address the issue with a proper institutional framework and infrastructure required," Odubote noted.
He said the harm caused by plastic pollution was enormous and capable of causing negative impacts on the nation's environment in the nearest future.
"In Nigeria, water sachets and pet bottles are not properly disposed. The plastic ends up in drainages, landfills and oceans with only a few recycled.
"The manufacturers keep producing plastics without a robust plan for recycling; the people's lifestyle and consumption patterns further escalate the uncontrollable spread of single-use plastics.
"The world is currently at the risk of losing both its land and oceans to plastic," Odubote warned.
Also, Ms Gloria Bulus, the founder of "Bridge that Gap Initiative," an advocacy group said WED would help sensitise Nigerians against plastic pollution.
He said, "Enough emphasis has not been placed on WED. Nigerians need to understand how important our environment is to us, and the future generation.
"We need more environmental advocates and publicity to sensitise Nigerians on the adverse effect of plastic pollution," explained Bulus.
She stated that WED would also build awareness on the immense benefits of recycling.
"Asides sensitisation and awareness, we want people to understand the importance of reuse and recycling in Nigeria and how they can create wealth from recycling.
"We want Nigerians to come up with solutions to beat plastic pollution and not rely on government for solutions," she said.
An environmentalist, Mr Richard Inyamkume, called on the government and other stakeholders to intensify campaign to change public attitude and behaviour towards the use and disposal of plastics.
Inyamkume, the Senior Programme Officer, Climate Change Mitigation and Adaptation Initiative (CCMAI), said: "There are many ways of addressing environmental issues of this nature. One way is to raise advocacy that will change public attitudes and behaviour towards the use and disposal of plastics."
Inyamkume said that other methods of tackling the environmental issue involved public activism and legislation.
"I believe in change of attitude as it can increase public consciousness about the impact of plastics on the environment, while prompting alternative considerations for the use of plastics in the country.
"A campaign against improper plastic waste disposal can begin in the home setting before going into the streets; it should make high impact and encourage plastics reuse, recycling and substitution,'' he said.
Inyamkume, however, underscored the need for the citizens to understand their specific roles in the campaign for a plastics-free environment, adding that they should also be encouraged to organise regular community cleanup activities to clear plastic waste.
"Besides, government and policymakers ought to review national legislation and policies so as to discourage the production of single-use disposable plastic materials, while encouraging the production and importation of environmentally friendly products.
"The 2018 World Environmental Day will somewhat be celebrated in a unique way, as it sets to address plastic pollution which has been a serious environmental concern, among other issues.
"Plastic pollution occurs where plastic materials are indiscriminately dumped in an area in such a way that it begins to impact negatively on the ecosystem,'' he said.
He said that the global community was planning to achieve clean, sustainable and pollution-free cities by 2030 and as such, efforts were underway to address plastic pollution.
"In Nigeria, plastic pollution has increased over time due to the proliferation of plastics producing factories and a corresponding increase in the demand for plastic materials by the public.
"These increases have come with attendant environmental consequences such as plastic pollution, mostly in urban and commercial areas, and there has not been enough public awareness or sensitisation on the proper methods of disposing plastics.
"What usually constitutes plastic pollution includes but is not limited to single-use plastics. These are plastic bags, water bottles, straws, cups, utensils, dry cleaning bags, take-away containers or disposable plastic materials,'' he said.
The environmentalist said that if not properly managed, plastic waste could affect life on land and in oceans or rivers.
"As a concerned environmentalist, I think there is need for concerted efforts to address plastic pollution globally,'' he said.
Inyamkume said that Nigeria should to join the global crusade to end plastic pollution because of its hazards to the environment.
Mr John Ekoko, the former Chairman of the Lagos Island chapter of Nigerian Environmental Society, called for increased research on biodegradable materials to replace plastic packaging materials.
Ekoko stressed that plastic materials were not biodegradable and they were, therefore, not environmental friendly.
"The 2018 World Environment Day is creating awareness of the environmental pollution caused by plastics and the need to curb the menace.
"This requires the involvement of all tiers of government, organisations manufacturing plastics products and related materials as well as individuals — the end users of the products.
"The government should champion the gradual phase-out of the use of plastics materials for product packaging by organisations.
"It should also encourage the recycling of plastic products, while ensuring that the citizens imbibe proper ways of disposing plastic packages," he said.
Ekoko noted that there was a lot of plastic pollution going on across the world, as plastic waste often competed for space in oceans and on land.
He said that the plastics had some harmful micro-organisms which could contaminate underground water, adding that whenever people drank the contaminated water, they were prone to contracting water-borne diseases.
The environmentalist said that many big firms had now resorted to using paper products as alternative packaging materials, adding that other companies should be made to emulate such firms.
Ekoko said that the government should also regulate the use of plastics for product packaging, while promoting the use of biodegradable materials as an alternative.
By Mercy Okhiade, Chidinma Agu and By Deji Abdulwahab