The Federal Government of Nigeria has called on the United Nations (UN) to assist in addressing Hydrocarbon Pollution Remediation Project (HYPREP) and Great Green Wall issues (GGW) to enable restoration of lost lands in the country.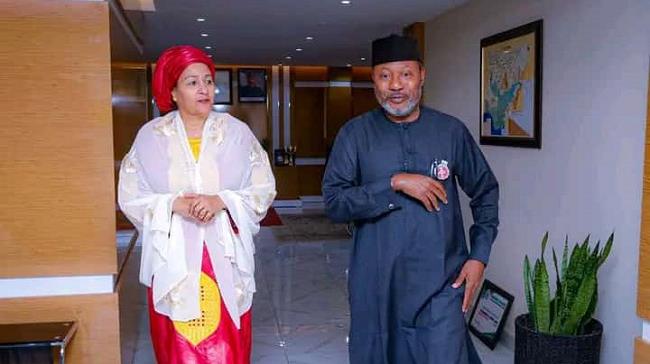 Minister of Environment, Mr Mohammed Abdullahi, said this while receiving the Deputy Secretary-General of UN, Amina Mohammed, on courtesy visit, in Abuja on Monday, November 28, 2022.
Abdullahi said that the ministry was committed to ensuring that the two major projects were implemented effectively, adding that the UN's intervention would boost the ministry's efforts.
"There are two important projects which we will need more of your support, the HYPREP and GGW. We are doing our best to ensure that it's working greatly.
"We have the team for the HYPREP. We are doing our best to make sure that the structure put in place is maintained to ensure checks and balances for good governance and transparency.
"This is what we are doing and we hope we will get robust support from you.
"You have always been there for us and we still have hope that you will continue to give us your full support," he said.
Responding, Mohammed said that the UN would give its best to support in restoring the loss lands.
"So, it's really important that we put in place the teams that will help us to look at those programmes and to see that GGW issues is properly addressed.
She said the GGW project was an economic corridor, which would offer empowerment to both youth and women, if properly addressed in the country.
According to her, the GGW project will really empower our people, but at the same time, it is able to give less reason for people to destabilise countries when they get involved in conflicts of different types.
"So again, we are at your disposal; the UN will support any efforts that you want with the GGW, particularly the wetlands," she said.
Mohammed, however, advised agencies, parastaltals and other relevant stakeholders to support the ministry in ensuring that the environmental programmes were implemented effectively.
She thanked the minister for his strong leadership and commitment in ensuring that environmental crisis were being tackled as well as ensuring that Paris Agreement was achieved effectively.
HYPREP was established in 2012 under the Federal Ministry of Environment to achieve the under listed objectives in Ogoniland and other impacted communities:
"To determine the scope, means and modalities of remediation of soil and ground water contamination in impacted communities as may be recommended by HYPREP Governing Council and remedy them,
"Enhance local capacity for better environmental management and promote awareness of sound environmental management as well as ensure livelihoods and sustainable development, and
"Ensure security and promote peace building efforts in impacted communities as well as strengthen governance, transparency and accountability in the region."
The Great Green Wall (GGW) initiative, launched in 2007 by the African Union, aims to restore the continent's degraded landscapes and transform millions of lives in the Sahel.
Its ambition is to restore 100 million hectares of currently degraded land, sequester 250 million tonnes of carbon, and create 10 million green jobs by 2030.
In Nigeria, the GGW Initiative also seeks to recover degraded land, preserve ecosystems, and provide sustainable livelihood opportunities for communities.
By Vivian Emoni