The Minister of Environment, Balarabe Lawal Abbas, has stated that the ministry will work with National Assembly to come up with a roadmap that would assist the sector achieve its mandate.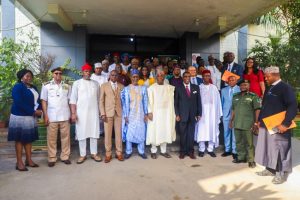 The Minister disclosed this on Friday, October 27, 2023, during a working visit by the Senate Committee on Environment led by the Chairman, Senator Yunus Biodun Akintunde, and other Members of the Committee to the Ministry in Mabushi, Abuja.
Lawal solicited for the support and cooperation of the Members of the Committee in the area of funding, stressing that the National Assembly is very key for the Ministry to deliver optimally on its mandate.
He promised to operate an open-door policy to the members of the National Assembly and all relevant stakeholders on issues relating to the environment sector.
He assured the Senate Committee on Environment that the ministry would work hand in hand with Committee, emphasing, that the environment ministry would soon be unveiling what it intends to do by collaborating with all relevant stakeholders in order to achieve the renewed hope agenda of President Bola Ahmed Tinubu
In his remark, the Minister of State for Environment, Dr. Iziaq Adekunle Salako, stated that of the eight Point Renewed Hope Agenda of the Mr. President, five of them are Ministry of Environment related issues.
Dr. Salako revealed that the Federal Ministry of Environment and its agencies needed maximum support from the National Assembly in terms of budgetary allocation for effective service delivery.
Earlier, the Chairman, Senate Committee on Environment, Senator Yunus Bioudun Akintunde, reassured the Ministry of their support and hence, the working visit is to familiarise the Committee with the Ministry and it Agencies with a view to evolving a synergy and effective formulation, processing, implementation and monitoring of government programmes and projects to excellently deliver on the "Renewed Hope" of the current Administration.
As part of the Legislative oversight functions, Senator Yunus stressed: "The Committee will want to know your level of preparation, constraints, policy direction, programmes and projects in the 2024 Appropriation Bill (2024 Budget), and the processes and actions your Ministry and Agencies have undertaken so far in these regards".
Speaking further, Senator Yunus tasked the Ministry and its Agencies to carry the Committees along on the consultation, conferment, involvement and collaboration with the National Assembly on programmes/projects choice, formulation and location in the execution of critical intervention constituency projects in the various Senatorial districts across the country.
The Chairman further disclosed that the Legislative chamber would continue to collaborate with the ministry for effective management of the environment to ensure safe and healthy ecosystem.