Stakeholders in the environment sector have urged Nigerians to expedite actions against air pollution and climate change for a healthy environment in the country.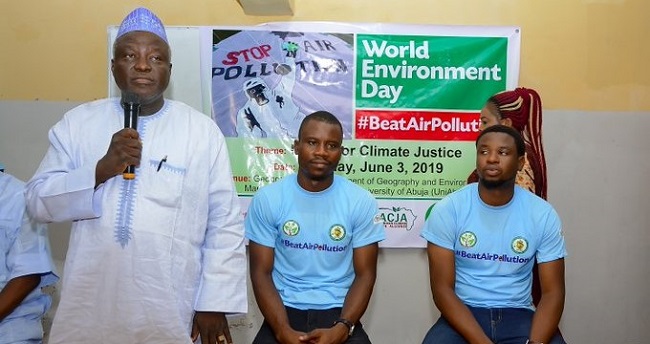 They gave the advice on Monday, June 3, 2019 at the "March for Climate Justice" organised for students of University of Abuja to kick-start the commemoration of the 2019 World Environment Day.
The global day, which has its theme: "Beat Air Pollution", holds on June 5 annually to create awareness on the causes of the air pollution and its harmful effects to human health.
The Global Initiative for Food Security and Ecosystem Preservation (GIFSEP) in collaboration with National Association of Geography and Environmental Management Students organised March for Climate Justice in the university mini campus in Abuja.
The stakeholders identified tree planting, creation of awareness, renewable energy, recycling of waste and provision of waste bins as solutions to address air pollution in the country.
Prof. Mamman Alhassan, the Head of Department, Geography and Environmental Management, University of Abuja, said that air pollution was responsible for climate change because the world was warming due to emissions derived from transportation, cooking and bush burning.
According to Alhassan, the carbon emissions which are released to pollute the environment, change the climate by causing the delay in weather condition, especially seizure of rain that destroys farm production not to have bumper harvest.
He underscored the need for the country to have National Air Quality Standards in order to address the problem of air pollution in the country.
According to him, this National Air Quality Standards will aid the operations of the relevant enforcement agencies to do the needful.
Mr Oko Pius, the Project Officer, Climate and Sustainable Development Network, an NGO, quoted the United Nations Environment Programme (UNEP) as saying that nine out of 10 people breathe in polluted air daily, and globally seven million people die of air pollution annually.
Pius urged Nigerians particularly young ones to take actions against air pollution because of its harmful effects on human health and the environment.
Mr Aliyu Sadiq, the President, National Association of Geography and Environmental Management Students, University of Abuja, who spoke on behalf of the students, demanded that climate and environmental teachings and researches should be mainstreamed into the institution's courses.
Sadiq said that it would help students to have better understanding on how to conserve the environment.
The Executive Director of GIFSEP, Mr David Michael, said that his organisation organised March for Climate Justice for students in the field of Environmental Management to raise awareness campaign on the effects and ways to combat air pollution and climate change.
Michael said that every research on climate change was foreign.
He said that his organisation took March for Climate Justice Campaign to the institution to help to conduct "a research that is Africa-base which in turn will address the problem of climate change in Africa''.
By Deji Abdulwahab