The Abuja Bureau Chief, EnviroNews, Etta Michael Bisong, has emerged as one of the winners of the 2022 Eweh Eleri Climate Justice Fellowship.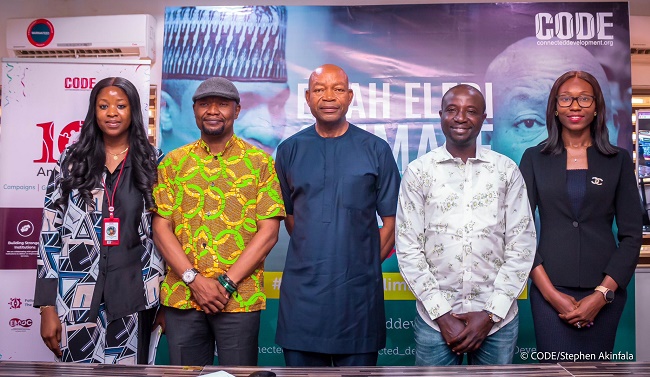 Bisong, who was announced as a Fellow on Tuesday, November 1, 2022, during a press conference organised by Connected Development (CODE) in Abuja, will be joining four other winners to attend the 27th Session of the Conference of the Parties (COP27) to the United Nations Framework Convention of Climate Change (UNFCCC) commencing on November 6, in Sharm El-Sheikh, Egypt.
"I am pleased to be associated with Hamzat," says Eweh Eleri, Executive Director, at the International Centre for Energy, Environment & Development (ICEED), in referrence to Mr Hamzat Lawal, founder and Chief Executive Officer of CODE, who instituted the Fellowship in his (Eleri's) honour.
Eleri, who disclosed that it was against his personal principle to receive public honours, said he changed his mind and accepted this particular one because of its significance towards addressing the ecological challenges bedeviling the entire globe.
Therefore, he urged the new fellows to see their nomination as a big privilege to serve and help modify the climate crisis into new socio-economic opportunities.
On his part, Lawal, said that his organisation launched the programme to enable climate justice campaigners in Nigeria to expand their networks beyond the country. He added that it is also expected to serve as an avenue for the nominees to gain hands-on experience during the UN climate negotiation.
The experience, according to him, will help spur the champions to initiate and carry out activities that promote climate change mitigation and adaptation.
Dubbed an implementing conference, Lawal believes that COP27 could serve as a lifeline to the Glasgow accord and advance the issue of loss and damage for more affected countries.
He hinted that CODE, in collaboration with Oxfam, is leading a campaign in the Niger Delta region to sensitise the public on how to enhance transparency and accountability in engaging with oil and gas companies to tackle the unprecedented environmental devastation and injustice that is ongoing in the area.
The Ewah Eleri Climate Justice Fellowship is an initiative of CODE established to foster the preservation of Mother Earth. The winners of the maiden edition are Etta Michael Bisong, a journalist and sustainable development campaigner, and Gift Olivia, a journalist with The SightNews.
Others are Mrs. Samuel-Nwokike, a trained communicator; Mr. Gregory Odogwu, an environmental columnist with The PUNCH newspaper; Idowu Esuku, aka Climate Man, a climate change musician; as well as Hyeladzira Mshelia, a climate advocate and CODE's programmes associate.
By Etta Michael Bisong, Abuja