Benchmarking the mode of operation in the energy sector against the US Dollar will continually make things difficult for all the stakeholders in the industry thereby affecting power generation.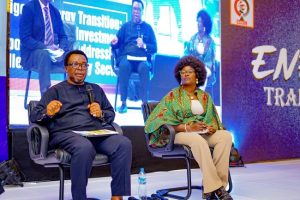 Chiedu Ugbo, Managing Director/Chief Executive Officer, Niger Delta Power Holding Company (NDPHC), took this position in his chat with journalists at the 2023 Annual Conference of the Nigerian Association of Energy Correspondents (NAEC) in Lagos on Thursday, October 5, 2023.
He said that Nigeria as a country can produce gas in large quantities but cost of production has always been a major challenge.
"Gas tariff we are paying for is denominated in USD that means for instance if the tariff is $2 the payment which is allowed in naira is at the equivalent rate of dollars as at the time of payment and because of fluctuation in dollar rate (at almost 100% now) it means the power we consume will go up and it will be a huge burden on Nigerians. Good news is government is stepping in and they are working out some modalities so we are waiting for official pronouncement on that.
"What I'm saying is that not all the costs are in USD, for instance, the salaries they pay are not in USD, all the trucking, they are not in USD. Yes, it can form part of that but equipment can be in USD. For me I also get my equipment in USD as none of my equipment is manufactured in Nigeria but I collect naira and I still buy parts and we still import parts. If you start benchmarking everything the way they are doing, you will not do business, you go out of business.
"As gas producers or power generation companies we should all work together and stop the idea of benchmarking against the dollar it becomes difficult for all of us," he advised.
According to Ugbo, "the Vice President of Nigeria, who is the Chairman of NDPHC, is extremely passionate about the project and he is leading the charge and with NDPHC's 300 megawatt production, there is still room for expansion. So we are going to the industrial cluster, for instance Agbara Industrial Area needs about bottleneck of transmission transformer and distribution and the line is there so most times the lines has the capacity but transformation is the problem.
On the issue of the N198 billion owed NDPHC, the GM/CEO of the company said: "It is an industry-wide thing and this started since 2013 cumulatively till date but the good thing is that the government is addressing it gradually. It is a market debt and not a government debt, government is only helping to keep the light on but if the debt gets too much, the supply industries will cut off the light."
In his remarks, Ado Oseragbaje, Chief Executive Officer, Heritage Energy Operational Services Limited, opined: "With OPA's prediction of a 23% increase in global primary energy demand in the period up to 2045, it is imperative for the Nigerian energy industry to maximise the potential of its gas deposit and contextualise its place in the fast-evolving economy. Gas is a very critical engine and fuel as the world transits to cleaner energy sources. No wonder the federal government declared 2021-2030 as a decade of gas.
"Nigeria is said to have about 205.83 trillion cubic feet of gas, which is 33% of Africa's total reserve of 620 TCF. This gas, with the right investors, would help Nigeria through the clean energy transition and enable her to meet the developmental needs."
In her remarks, Mrs. Audrey Ezeigbo, MD/CEO Falcon Corporation who also doubles as the Conference Chairman for the event, said: "Energy is not just about economic growth. It also has profound implications for the environment and our collective future. It is that which holds the wheels which can give full expression to the capacity and multitude of talents and entrepreneurial abilities that are native to us as Nigerians.
"Nigeria is the most populous country in Africa and one of the largest economies on the continent, and we face very unique challenges as well as have unique opportunities in the realm of energy. With abundant natural resources, including oil and gas reserves, Nigeria has, as we know, long relied on fossil fuels to meet our energy needs, and this reliance has fuelled economic growth.
"Indeed, the oil sector has been the cornerstone of the Nigerian economy for decades, providing significant revenue and information opportunities that most often benefit. One of these has brought considerable wealth and also exposed the country to a series of challenges, including environmental degradation, oil spills, gas flaring, deforestation that is associated with oil exploration and production and this has led to the effects on our local communities, our environment as a whole."
She also noted that "Nigeria has challenges as it relates to energy insecurity and economic vulnerability due to global oil price fluctuations. Indeed, from the standpoint of energy access and security, despite being an oil producing nation, Nigeria faces significant energy access challenges, with millions of Nigerians lacking access to electricity, and those with access often grapple with very frequent power outages. This lack of energy security hampers economic growth and human development. In the face of climate change and international commitments to reduce carbon emissions, the global energy landscape is undergoing a transformation."
While highlighting the impact of the Petroleum Industry Act 2021 (PIA) on the sector from a Regulatory perspective, Gbenga Komolafe, Chairman and Chief Executive, Nigerian Upstream Petroleum Regulatory Commission (NUPRC), revealed: "The PIA was enacted to provide a fresh legal, governance, regulatory and fiscal framework for the Nigerian Petroleum Industry consistent with modern operational and administrative realities. The Act empowers the Nigerian Upstream Petroleum Regulatory Commission to perform the role of technical and commercial regulator in the Upstream petroleum sector, monitoring activities in a manner that will ensure sustainable hydrocarbon exploration and production in a manner that ensures optimal return on revenue for all stakeholders.
"The PIA also introduced incentives aimed at driving the growth of our nation's reserves in a bid to attract more investments to the sector and boost our daily production even in this period when the world clamours for a shift in the global energy dynamics.
"The Commission is committed to ensuring a significant reduction in the cost of doing business in the upstream petroleum industry. Following an in-depth comparative analysis between the Unit Operating Cost (UOC) in Nigeria and those obtainable in other climes, we have commenced the development of cost studies and benchmarks to ensure an improvement in the cost efficiency of our upstream petroleum operations, in accordance with Section 8 of the Petroleum Industry Act 2021. The NUPRC has also began a review of all Crude Handling Agreements (CHA) with a view to entrenching openness and competitiveness, thereby reducing the cost of production while increasing government revenue from the sector."
In his address, Clement Isong, Executive Secretary of MOMAN, who identified Single Supplier Importer, Infrastructure Investment, High Cost and Operations as some of the setbacks experienced by the industry, however suggested that "if spending goes down, the industry should reduce its costs, alternative energies and no to subsidy as some of the way forward to achieving the desired result".
"The previous subsidy arrangement had adverse effect on the Nigerian economy because the method of subsidy was untargeted, expensive and unsustainable. The government has an opportunity now to intervene on a short term basis to manage escalating energy cost," he maintained.
This year's conference organised by NAEC witnessed participation from major stakeholders in the energy sector including Dr. Alex Otti, Executive Governor of Abia State, represented by Prof. Joe Ogbonna, Abia State Commissioner for Energy; Austin Avuru, Executive Chairman, A.A Holdings; Akachukwu Nwokedi, President Nigeria Gas Association; among others.
By Ajibola Adedoye