The Health of Mother Earth Foundation (HOMEF) has called on government to respond swiftly to the demands for justice by Nigerian youths.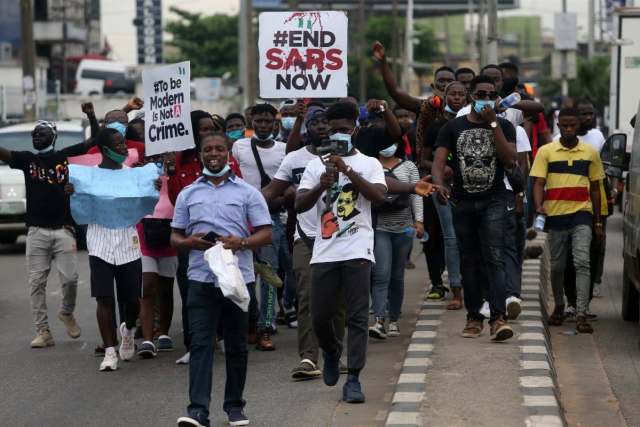 This call was made by the ecological think tank in a press statement issued on Monday, October 19, 2020 as the #EndSARS protest intensified across Nigeria and echoed in other nations of the world.
HOMEF lends her support to the voices and demands of Nigerian youths against the brutality of the "disbanded" Special Anti-Robbery Squad (SARS), especially in recent times.
The organisation says it supports the demands by protesters for justice for victims of SARS brutality, improved security in the country, immediate Police Force reform, and an inclusive government.
According to Nnimmo Bassey, HOMEF's Director, the calls for the allocation of more funds to the education sector, placement of elected politicians on minimum wage to attract genuine public servants, increased remuneration for teachers, doctors, nurses, police, military and civil servants, speak to some of the structural problems the country must address country.
"The deep-seated inequalities should be uprooted and the dignity of our people upheld," Bassey stated.
HOMEF says it believes that the nation must address the systemic root causes of the crises and stressed that the renaming of SARS as SWAT — Special Weapon Tactical Team — was an unconvincing rebranding effort.
The disbandment of SARS as announced by the Inspector General of Police following the agitation of Nigerian youths does not address the problem, he said, adding that, rather, it gives the offenders a new platform to continue on the path of oppression.
The Director reiterated the need for justice in all spheres of the nation's existence including the environment, food systems and social/economic wellbeing.
"We should note that, without environmental justice, there is no solid platform for political progress and enjoyment of human rights. HOMEF believes that the injustices experienced in Nigeria specifically, and in the world generally, are direct results of political decisions, actions and inactions and a jaundiced relationship with Mother Earth.
"This is an opportunity for a radical transformation of our politics and a thorough overhaul of sociology-economic structures to promote justice and the dignity of our peoples.
"While we do not support any violent actions during these protests, we demand that the government protect peaceful protestors from hoodlums and take decisive and effective steps to ensure safety of citizens.
"We must end all forms of injustice! It is time for a new Nigeria!" the statement concluded.