A non-governmental organisation (NGO), Synergos Nigeria, on Thursday, February 15, 2018 said it was developing new controlled grazing mechanism to address the herdsmen and farmers conflict in parts of the Northern Region.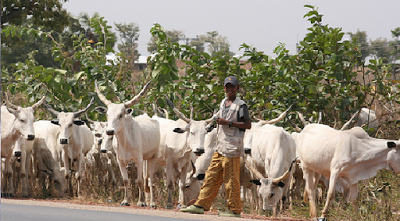 The Field Manager of Synergos, Victor Adejoh, disclosed this at the presentation of a research study in Kaduna to support the development of a comprehensive policy and action plan to end the conflict.
Adejoh said the research work, titled: "Study to Support and Inform the Development, Review and Implementation of Controlled Grazing Policy in Nigeria", had identified viable options and strategies to effectively manage the frequent clashes.
He said the strategy would include interactions between local farming communities and nomadic herdsmen to prevent repeated conflicts.
"It will explore means of demarcating existing grazing reserves, designing improved incentives and establishing proper monitoring and compliance systems.
"The study will equally facilitate the push for gradual injection of modernisation processes into traditional livestock production system and recommend policy interventions that will reduce conflict," the official said.
Also, the Permanent Commissioner, Kaduna State Peace Commission, Saleh Momale, said the aim was to develop  effective mechanism to coordinate use of rural land resources.
Momale said the conflicts had always been over grazing and farm lands, water and forest resources.
"Sometime in Sept. 2017, Synergos, in collaboration with the Bill and Melinda Gates Foundation, requested for a study to look out for some of the issues affecting pastoralist and farmers relations, as well as the emerging policies on controlled grazing in Nigeria with particular focus on Kaduna, Kogi and Benue states.
"We have sampled the opinions of varied stakeholders including farmers, pastoralist, traditional rulers, state governments institutions, civil society organisations and a number of community-based organisations.
"The study sampled opinions on how they feel about the issue of livestock management and production as well as conflicts and inter community relations," Momale said.
According to him, the team was mandated to recommend best ways of resolving the issues to ensure positive economic development, peace and security in the affected states.
On the findings of the study, he said "the weakness of the traditional institutions, due to a number of factors, have made it difficult to deal with the diverse problems of insecurity and conflicts.
"They, therefore, cannot effectively govern the land spaces unlike what was happening in the past.
"Also the local government institutions are not able to respond and perform their duties effectively in terms of management of resources at the local level and this allowed for massive encroachment and unregulated farming activities into areas that were used for grazing,"
Momale hoped that the Bill and Melinda Gates Foundation would provide the needed support towards financing some strategic interventions in Kaduna State and other conflict areas.
Various stakeholders including traditional rulers, security agencies, agric and forestry officers, All Farmers Association of Nigeria, Miyetti Allah Cattle Breeders Association of Nigeria among others attended the event.
By Shuaib Sadiq