The Emir of Dutse, Alhaji Nuhu Sanusi, has urged governments in Nigeria and other African countries to adopt measures towards mitigating the impact of climate change in order to ensure a conducive environment.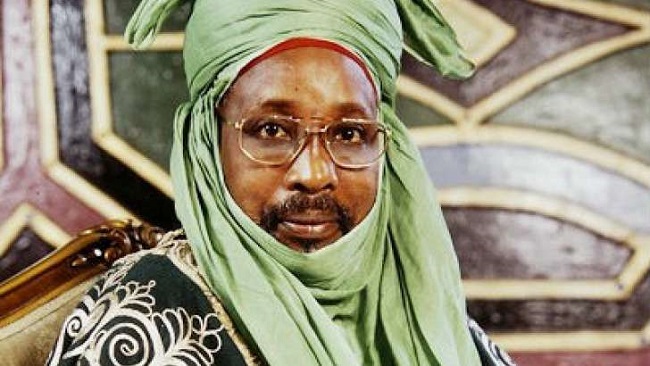 Sanusi, who is also the Chancellor, Sokoto State University, made the call Tuesday, November 9, 2021, in Abuja.
He spoke at the first anniversary lecture of "NatureNews'' online environment newspaper and unveiling of "ClimateAfrica" magazine as well as presentation of Hero of Environment Actions for Development (HEAD) award.
The event was organised by management of NatureNews and ClimateAfrica, both published by Alhaji Aliu Akoshile, who is also the Editor-in-Chief.
The Emir, who was the Chairman of the occasion, lamented the threat posed by climate change on human survival and the environment.
Sanusi blamed the challenge on both human factors and natural disaster.
He advised that any initiative geared towards mitigating impact of climate change should be fully embraced by the Nigerian government and Africa as a whole.
According to the Emir, it is the obligations of leaders and their followers to nurture the environment and make it conducive for living and food production.
Sanusi identified NatureNews newspaper and ClimateAfrica magazine as steps towards addressing the issue of climate change and creation of awareness through the press.
Prof. Mark Mwandosya, Chairman, Stanbic Bank Tanzania Ltd., who delivered the anniversary speech on "Climate Africa: Resilience and Adaptation", noted that Africa had been resilient to disasters.
Mwandosya said that every government both international and local should give priority to climate change and global warming .
"This subject requires several considerations. It should be part of SDGs, as mainstreaming climate change in the entire polity is imperative.
"In doing so, there should be equity, efficiency, self reliance, indigenous knowledge, and technological development,'' he said.
In his speech, Akoshile identified NatureNews as a foremost newspaper focusing on the environment, climate change and sustainable earth.
The publisher said that it was conceived in 2016 following the adoption by the UN General Assembly of the 17 SDGs with the 13th goal specifically demanding "taking urgent actions to combat climate and its impacts''.
According to him, NatureNews and ClimateAfrica subscribe to the abiding principles of journalism ethics .
"They are committed to producing contents that are accurate, balanced, truthful and fair as enunciated by the society of professional journalists," Akoshile said.
He specifically noted that the two publications focused on general space for the environment.
"A lot of coverage has been done on politics, business, and entertainment but there is something that binds us together as human beings and that is the environment.
"Today, from global discussions and conversation, the issue of environment has to be given more tone of voice.
"So, coming up with this magazine, I look at what other space can one make impact so that at the end of the day, this society that we are all in can become more habitable for all of us and also sustainable for other things to thrive.
"This is because if the environment is not conducive, if the environment is not right, you can't do business, you can't play politics and you can't do entertainment if the environment is not right,'' Akoshile explained.
He frowned at the poor attention given to climate change issues and its impact in Nigeria and Africa as a whole.
According to Akoshile, he decided to go into the space to give intense coverage to the issue of environment and also to serve as a basis for every Nigerian to begin to be conversant with climate change impact in the country.
"What we intend to do is to first of all sensitise the people. Everybody must think environment which is the Number One role. If we are thinking environment even in simple disposal of water sachet, someone can just dispose it properly.
"So, if we create this awareness even in schools, children will become more aware to dispose waste properly and gradually we will get to the space where we have to imbibe environment culture in waste disposal,'' he said.
By Felicia Imohimi