Lamu residents were on Wednesday, June 26, 2019 overwhelmed with joy after the National Environment Tribunal (NET) cancelled the license issued by the National Environment Management Authority (NEMA) to Amu Power for the construction of the Lamu Coal Power Plant.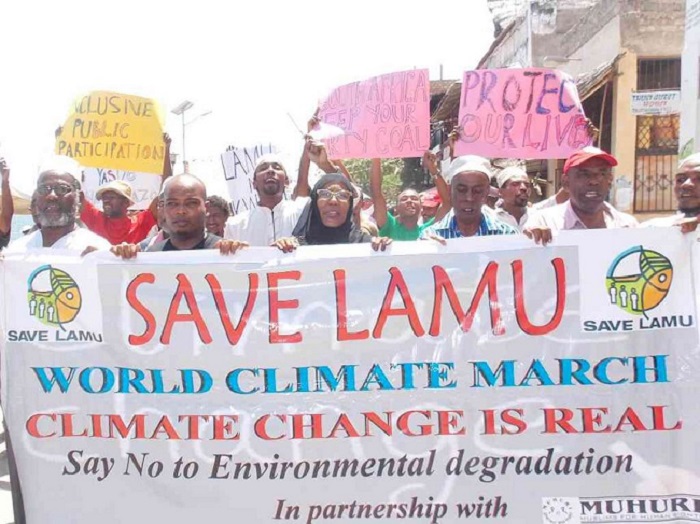 NET observed in their judgement that NEMA made an error in issuing Amu Power with a license when their environmental impact assessment study (ESIA) did not meet the test of an ESIA study as granted in the Constitution of Kenya and other relevant laws.
The members of the tribunal also faulted Amu Power for their failure to conduct effective public participation.  NET chairman Balala, when reading the judgment, said the tribunal could not excuse non-compliance.
"Public participation is the oxygen that gives life to an ESIA report," said Chairman Balala.
NET has allowed the appeal and set aside the license of the coal plant and ordered that Amu power to undertake a fresh ESIA study. Additionally, no construction is to be undertaken.
Save Lamu Vice Chair, Mohammed Mbwana, couldn't hold back tears. After appearing before the NET as a witness and advocating against the coal plant this was the best news in a very long time, he said.
"Today, we can't express how much happiness this judgment brings us. We thank the members of the tribunal for listening to our plea and revoking the license granted by NEMA. We're now old but we inherited a clean and healthy environment from our fathers and it's our duty to give our children a clean and healthy environment as well," said Mr. Mbwana.
After three years since appealing NEMA's license to Amu Power, the community has been waiting with bated breath for justice. Justice not only to live in a healthy environment but also to be heard as Kenyans and have a say in the kind of development they want.
Another resident of Lamu, Mohammed Athman, captured this better in his response to the judgment.
"Now I believe an average Kenyan can go to court and get justice. In the past, people suffered in silence. I am really happy with the judgment," he said.
The judgment has restored hope among Kenyans that, indeed, the law is the great equaliser – handing justice to the poor and rich alike. No doubt this judgement will set precedence in the country, region and globally.
"I'm ecstatic. I'm excited. I'm beyond overjoyed. This is great but bado mapambano!" said deCOALonize board member, Samia Bwana.
Indeed, other ongoing projects in the country that are flouting the Constitutional rights of the people, including public participation and a right to clean and healthy environment, are now on notice and contractors and investors must now go back to the drawing board before the law catches up with them. 
Observers say the judgment appears to have vindicated Environmental Human Rights defenders and emboldened them to continue fighting for the communities for a better future. In the wake of Cyclone Idai and Cyclone Kenneth, being experienced so close in South African countries, "we have no obligation but to remain firm and pursue environmental and climate justice everywhere in the country," a source said.
"This judgment has affirmed Kenya's position as leader in renewable energy and has firmly put the country on its path to transition to 100% Renewable Energy by 2020. Currently, Renewable Energy makes up 70% of the country's installed electric power capacity," he added.
"Today's ruling is a major one for the environment, the people of Lamu and Kenya. It has stamped the authority of tribunals in courts to ensure compliance with the rule of law," said Ochiel Duddley, lawyer, Katiba Institute.
Mark Odaga, a lawyer with Natural Justice, also recounted the legal journey, expressing his gratitude to the tribunal. "What this means is you can't ignore the concerns of a community when considering a development project. Indeed, this case from the start wasn't about anti-development. It was about giving communities a chance to participate meaningfully in developments concerning them," he said.