Pursuant to the vision of the Vice-Chancellor, Alex Ekwueme Federal University Ndufu-Alike (AE-FUNAI), Ebonyi State, Prof Chinedum Nwajiuba, to transform the university to a "Campus in a Garden", guests and stakeholders who visited to identify with the vision were on Tuesday, August 4, 2020, hosted by the institution.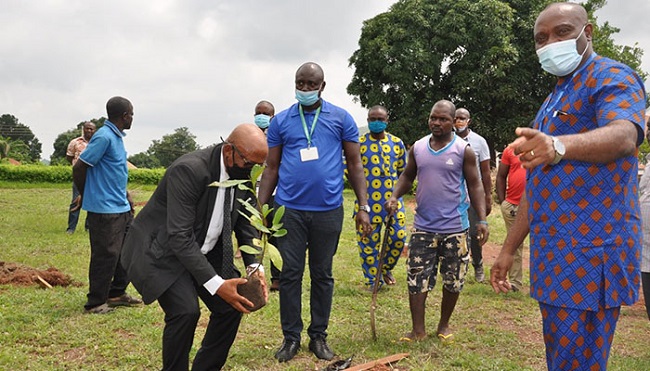 The guests were in the university campus to participate in and support the Go Green Initiative, a tree planting vision, towards its realisation.
The guests included Mr. Sunday Nwambam, Chairman, Global Oil and Gas; Mr. Pius Nwankwo, Director, Native Kitchen; Mr. Christian Ezunu of NNPC; Arc Aloysius Nwalozie, Project Manager, TETFund; Surv. N.D Garba; and Mr. Obi Aio, Executive Director, Royal Salt.
An elated Prof Nwajiuba expressed gratitude to the visitors for coming to be part of the university's tree planting initiative and for their kind words of encouragement and demonstration of love, stressing that, by the gesture, they have become part of history of the "most serious" public university in Nigeria.
Prof Nwajiuba said: "We are building a university of our era. We are planting for posterity. For us to achieve this vision, all hands must be on deck."
He charged the Coordinator, AE-FUNAI Go Green Initiative, Mr. Ifeanyi Chukwu, to ensure that the trees so planted are properly branded and appropriately placed in the records, and further requested to facilitate the planting of all available seedlings to achieve the ,3000 trees target for the year, before the end of rains.
The guests took turns to appreciate the VC for his leadership, record of success in infrastructural development and mission to build AE- FUNAI to the university of the future.
They prayed that the university will continue to grow as the trees they planted grow, pledging their commitment to continue to be part of the success story of the young and fast growing university.