Egor Local Government Area (LGA) in Edo State on Monday, July 10, 2023, hosted the South-South Community Consultation on Net-Zero in Nigeria RANTZ Project.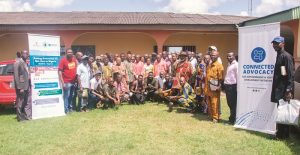 Mrs. Doris Iyobasa Oronsaye, Head of Socials (HOS) and representative of the acting chairman of the LGA, described climate change as an issue that the world can no longer run away from as it is affecting both the rich and the poor, as well as the small and the big nations.
"So, there is need for everybody to work together to tackle and crisis and ensure to keep 1.5c alive, which is a task that must be done. So, we need every community member to develop new attitude towards safeguarding our planet and reduce or cut our carbon footprint to ensure we get to net-zero, because government cannot do it alone," she said.
Executive Director of Connected Advocacy (CA), Prince Israel Orekha, who also represented the other project consortium members – Centre for 21st Century Issues (C21st) and International Climate Change Development Initiative (ICCDI) – in his welcome address highlighted the impact of climate change and ways in which actions can be taken to mitigate its effect. He also underlined the importance of community involvement in taking action to achieve net-zero, even as he listed the objectives of the programme.
"Nigeria is in the process of formulating its low-emission strategies and all stakeholders including civil society organisations and communities are enjoined to support the country on the road to low-carbon development," he said, adding that C21st, ICCDI and CA are the CSO platforms championing awareness on net-zero carbon emission reduction in Nigeria.
He noted that the three organisations' support for the nation's low carbon transition necessitated the community consultation to raising awareness on Net Zero and climate change mitigation, adding that the main goal of the project is to "provide information and tools to communities, media, and CSOs to take action for deep emission reductions in Nigeria".
A resource person, Mr John Akintumile Akinnuba, spoke on the meaning and importance of Net Zero as well as the imperative for community involvement, pointing out that to go net-zero is to reduce greenhouse gas emissions and/or to ensure that any ongoing emissions are balanced by removals.
"This could be achieved if we reduce the harmful practice to our environment," he said, as he identified some good and bad practices to the environment, and the importance of planting trees as a climate action strategy and a way of achieving net zero. He also talked about forest management as a mitigative strategy of economic value.
Mr. Sunny Asejie, a solar energy expert, underlined the need to move towards net-zero and the benefit for residents, businesses and the environment, as well as transition to clean and just energy. He underscored the need for a comprehensive regional climate action strategy that is motivated to help communities work together and create job opportunities in the renewable energy sector.
He highlighted human actions that can support Net-Zero, just as he stressed the need to transit to renewable energy, saying that it is beneficial and can be effective as the nation's major source of power.
Mr. Amos Ediabonya of CA appealed to government to ensure full implementation of the Climate Change Act and ensure good working relationship with the community to drive people centered policy and provide support to enable the community to achieve net-zero.
Participants responded by saying how they would teach their community members about the importance of planting trees. Another respondent wants the Edo State Government to lead by example in planting trees along roads as it benefits the environment both by absorbing carbon and releasing oxygen.
A participant asked about how best to dispose refuse and highlighted the importance of government intervention in making spaces for tree planting in the community. Another participant wondered how low-income families can afford solar energy; even as Mr. Asejie stressed the need for the community to form a cooperative society for renewable energy to help them reduce energy poverty and achieve sustainable development for their community.