Community leaders in Edo State have been called upon to establish a system of monitoring developments in their neighbourhoods in the bid to address insecurity.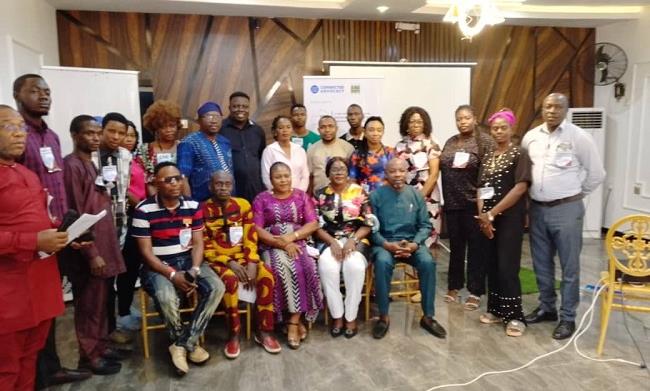 The system, according to participants at a workshop held in Benin City on Thursday, June 16, 2022, should comprise use of social as well as traditional media, google alerts, and the radio.
Themed: "Edo Act Now: Developing Early Warning Systems for Community Stakeholders and Media in Edo State", the event was organised by Connected Advocacy, a city-based non-governmental organisation (NGO), for which the Executive Director, Prince Israel Orekha, stated that the meeting was aimed at building the capacity of key media and community stakeholders in the state on how to identify early warning signs and take required safety action to prevent the attacks and/or reduce casualty; as well as strengthen the synergy between citizens, security agencies, media, and the human rights commission.
In his speech, he emphasised the need to strengthen grassroots communities' relationship with security operatives, and the human rights commission using the early warning signs to ensure prompt response to deter attacks of various degrees.
He said: "For weeks now, our neighboring state, Ondo, has witnessed mass atrocity that they never envisaged – attack on church, communal clashes, killings, land grabbing, kidnapping and community invasions by unknow gunmen, killing, destroying means of livelihood.
"Edo, which is the heartbeat of the nation, a transit route to East, North and South, is currently experiencing pockets of violent attacks in the North, Central and South. If something is not done urgently to increase citizens readiness and improve knowledge on early warning signs for citizens to know the appropriate measures to mitigate such attacks, more attacks will come."
Deputy Commissioner of Police, DCP Muhammed Dahiru, who represented the Commissioner of Police, stated that the event came at a time of great insecurity challenges in the country. Saying that the Police Force cannot do it alone, he stressed the need for collective responsibility. According to him, the community members are the solutions to insecurity, and they are watchdogs of their communities.
Mr President Aigbokhan, Executive Director of Freedom of information Counsel, who spoke on on "Preparing a safety plan – Steps to take before, during, and after violent attacks", recommended that mass atrocities should not be the job of the police alone, but that Civil Defence Corps should likewise be involved.
Mr Olumide Dosumu, State Coordinator for Human rights, spoke on the need to stop stereotyping of ethnic groups and how it will further increase violence. According to him it is better to address the issues by tagging that individual or group of individual than stereotyping against an entire ethnic group.
Dr. Georgina Erifeta, Director, Benin City Windows on America, emphasised the need for peaceful coexistence and dialogue, saying that this would go a long way to deter attacks and prevent max atrocities.
Mr Kenneth Woghiren, Director of Climate Change, Edo State Ministry of Environment and Sustainability, explored the root cause of farmer-herder clashes, saying that it is informed by migration occasioned by climate change and drought in the north.
"There is urgent need to address the land use and develop an adaptation measure to strengthening intercommunity relations and peaceful coexistence with one another," he said.
Mr Babawale Obanyanju, Executive Director, Tell The Story, described community story telling as a tool for safeguarding, explaining why we need to tell the story and how it is an important, accessible and powerful method for engaging, inspiring, teaching and influencing response for prompt action.
Pa Solomon Omoragbon, leader of Abummenre Community and Sir Egharevba Felix Odionwere of Igolo Community that have suffered from the attacks as a result of herders-farmer conflict, and other community representatives also expressed their fears, lamenting that members of their communities have all ran to the city, and some are currently in the IDP camps due to the invasion of some herders who entered the communities with their animals and weapons and destroyed lives and means of livelihoods.
They called on the federal and state governments, as well as the international communities to come to their rescue.