An ecologist, Mr Abdullahi Aremu, has urged the government to enforce the extant waste disposal laws and sanction those flouting the regulations.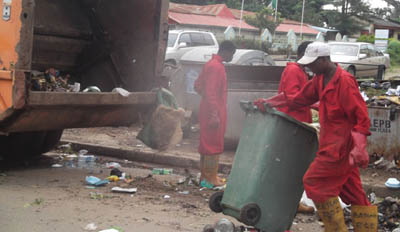 Aremu, who is the Director-General, Advocacy for Environmental and Sanitation Integrity, an NGO, told News Agency of Nigeria (NAN) in Abuja on Tuesday, February 6, 2018 that government should deal with those who littered the environment with garbage.
He particularly urged the Federal Government to resuscitate its "War Against Indiscipline'' programme, which in 1984 enforced discipline and orderliness in the country.
He said that the government should revive the campaign to tackle the growing menace of indiscriminate disposal of solid and liquid waste.
"In Nigeria, managing waste disposal has become a major concern despite the efforts by the government and private organisations in that direction.
"That is why it is a common sight today to see heaps of festering waste in all the nooks and crannies of the country.
"Residential apartments, markets, waterways, highways, streets and undeveloped plots of land have been converted into waste dumpsites for many households,'' he said.
Aremu said that the development had increased the volume of waste in a geometrical progression, exerting enormous strains on the waste collection and disposal apparatus.
"It is obvious that some factors responsible for poor waste disposal and management are paucity of funds, excessive population, lack of comprehensive legal framework and enforcement of existing regulations.
"Others include low investment in infrastructure, inadequate human capacity in administrative and technical issues, wrong attitude of the public towards solid waste disposal, poor planning, low data management and uncontrolled urbanisation,'' he said.
Aremu underscored the need for the three tiers of government to invest in advocacy, fumigation and other basic facilities to facilitate efforts to sanitise the environment and wipe out diseases such as malaria in the country.
By Deji Abdulwahab