A new era in environmental protection has emerged in Nigeria and 94 other countries, where environmental violations by Transnational Corporations, especially those involved in oil and mineral exploration are rife, as new laws that stipulate stringent punishments for crimes against the environment in these countries are being worked out.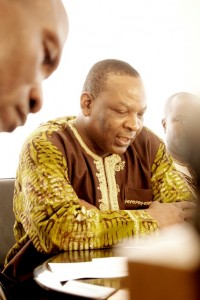 This may put an end to the era when multinational oil and other companies in the extractive industry that pollute the environment where they work, would rather than take responsibility by cleaning up the mess, preferred to engage in divide-and-rule as a strategy of evading justice as seen in Nigeria's Niger Delta area.
It followed a resolution through an overwhelming vote by the United Nations Human Rights Council at a recent in Geneva against Transnational Corporations' (TNC) voluntary mechanisms. The participants instead voted for an international legally binding mechanism to regulate the activities of TNCs relating to the protection of human rights.
The resolution was supported by over 610 organisations, 400 individuals, and 95 countries while 13 states abstained.
Dr. Godwin Uyi Ojo, Executive Director of the Environmental Rights Action/Friends of the Earth Nigeria (ERA/FoEN), who was at the meeting, gave insight on the resolution shortly upon arrival in the country, saying modalities are being worked out to domesticate the treaty in Nigeria.
He, however, said this victory ushers in a period to play up ecocide, as a crime that should go with a minimum life jail term for perpetrators.
Speaking in Lagos, Ojo said, "While we celebrate this victory we call on the United Nations to recognise the crime of ecocide being perpetrated at the sites of extraction on a global scale."
Should ecocide become embedded in Nigeria's law, he said, "TNCs and their Chief Executive Officers (CEOs) who repeatedly and fragrantly take operational and managerial decisions that have repeatedly resulted in ecological destruction, loss of lives and livelihoods are guilty of ecocide or crime against humanity that must be punished."
Ojo said a uniform binding mechanism would ensure that "environmental racism as practiced by TNCs, Shell and other oil companies in Nigeria will come to an end because the same standards deployed in Europe and America will be the same standards to be applied in Nigeria and elsewhere."
He also disclosed that the new legal regime would end the disdain of Shell against national oversight agencies such as National Oil Spills Detection and Response Agency (NOSDRA) and Nigerian Maritime Administration and Safety Agency (NIMASA).
"Recall that a fine of N1.84 trillion was imposed on Shell by NIMASA for compensation for lost livelihoods for over five million affected fishermen and women, and US$5 billion for administrative fine imposed by NOSDRA.
"Unfortunately till date Shell holds both institutions in disdain in the manner it has dismissed them and refused to pay up these fines," Ojo said, adding that the non-implementation of the UNEP report and failure to set up $1 billion fund for the clean-up and restoration of the Ogoni were part of the evidence supporting the case for a legally binding mechanism.
"The Nigerian situation of resource violence worked seriously against TNCs and Shell's activities in Nigeria, and Chevron refusal to pay over $9 billion by the Ecuadorian Supreme Court judgment were major evidences that swayed the votes in favour," he said.
Meanwhile, it has also emerged that the UN treaty will ensure that production costs cannot be externalised to third parties, but fully paid for in the production process including environmental remediation, compensation and risks management.
Meanwhile The ERA/FoEN boss has said ecological devastation and destruction of rural livelihood sources could be responsible for armed conflicts emanating across parts of Nigeria.
He said, "Since oil extraction has destroyed rural livelihoods in the Niger Delta, the environment of northern Nigeria is not less in devastation due to desertification. Western Nigeria is also faced with deforestation while eastern Nigeria is ravaged by gully erosion.
"In all these, rural people throughout Nigeria have been impoverished and sentenced to slow deaths thereby resulting in reactive tendencies that can no longer be ignored."
Consequently he has recommended that a social security in the form of National Basic Income Scheme (NaBIS) of about N10,000 payable to all Nigerians who are unemployed could be the solution to the spate of resource conflicts and violence.
By Onche Odeh