The Energy Commission of Nigeria (ECN), in collaboration with the United Nations Environment Programme (UNEP) and various partners, has initiated a training programme aimed at equipping stakeholders in the sector with the necessary skills for enforcing energy performance standards for air conditioners in Nigeria.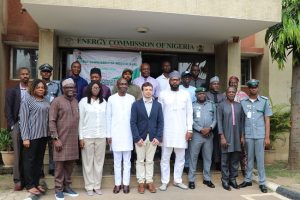 Commencing on November 15, 2023, the one-day training workshop on air conditioners monitoring, verification and enforcement (MVE) is an integral part of the broader project, "Scaling-Up Energy-Efficient and Climate-Friendly Cooling in Nigeria" and took place at the ECN headquarters in Abuja.
In his opening address, the director-general of ECN, Dr. Mustapha Abdullahi, elucidated that the primary objective of the project is to expedite the transition to energy-efficient air conditioners (ACs) with climate-friendly (low-GWP refrigerant) in residential, commercial and public buildings. This initiative aligns with Nigeria's climate targets in the Nationally Determined Contributions (NDCs) and aims to do so in a cost-effective and sustainable manner.
Abdullahi outlined that one of the key project activities is providing training on monitoring, verification, and enforcement (MVE) to support the implementation of upcoming minimum energy performance standards (MEPS). This training is specifically designed for relevant enforcement and regulatory agencies of the government and vendors of such products.
"The main objectives of this training workshop are: to build the capacity of relevant government institutions to effectively enforce energy performance standards of air conditioning equipment; to enhance their ability to carry out surveillance activities in the air conditioner sector to monitor compliance with these standards; to harness feedback from stakeholders and solicit their buy-in regarding the new energy performance standards proposed for air conditioner standards."
He further elaborated that the workshop would include paper presentations covering various aspects of air conditioner market monitoring, verification, and evaluation in Nigeria. Topics include but are not limited to, energy efficiency calculation for air conditioners, application of ISO 16358-1:2013 on seasonal energy performance, Product Registration System (PRS), and market surveillance for labeling and verification testing.
Highlighting the relevance of the project, Abdullahi emphasised the well-known and felt negative impact of climate change. He underscored the project's importance in contributing to one of the NDC's targets, aiming for a 2.5 per cent per year reduction in energy intensity through energy efficiency best practices across all sectors of the nation's economy.
Abdullahi recalled that the Air Conditioner Minimum Energy Performance Standards (MEPS) were first approved in Nigeria in 2017 but were scarcely enforced due to various reasons, including the lack of equipment for verification testing by the Standards Organisation of Nigeria (SON).
With support from GIZ and the EU, this barrier has been addressed, and an air conditioner biometric testing facility has been procured for SON, he submitted, adding that the project also proposes a periodic review (every five years) of existing air conditioner MEPS to incorporate technological advancements.
The ECN boss affirmed that the outcomes of the training workshop would complement ongoing efforts to strengthen the capacity of government agencies concerned with market surveillance and the enforcement of air conditioner MEPS.
The targeted participants include agencies such as the Standards Organisation of Nigeria (SON), National Environmental Standards and Regulatory Enforcement Agency, Nigeria Customs Service, National Ozone Office, Federal Ministry of Environment, Energy Commission of Nigeria and the NESP Team.
He urged all participants to view the training as an opportunity to contribute to the implementation of the revised NDC for a better environment.