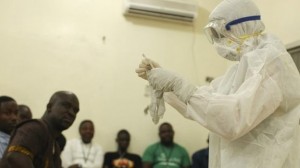 The Minister of Health, Prof. Onyebuchi Chukwu, has confirmed that the sister of the Port Harcourt doctor who died of Ebola has been discharged from the isolation ward in Rivers.
Chukwu, who briefed newsmen in Abuja on Monday on the current status of the virus in Nigeria, put the total number of successfully managed and discharged patients at nine.
According to him, the nine patients are among the 11 survivors of Ebola Virus Disease (EVD) in Nigeria.
Chukwu said that the wife of the late Port Harcourt doctor was still on treatment at the Isolation ward in Lagos and would soon be discharged.
"At the moment only one person, the wife of the Port Harcourt doctor is on treatment in the isolation ward in Lagos.
"She no longer has any symptoms and is undergoing series of tests preparatory to her discharge from the isolation ward this week,'' he said.
Chukwu said there were other contacts of the disease that were still under surveillance in Lagos and Port Harcourt, and assured Nigerians that the Federal Government was in control of the situation.
"Regarding contacts currently under surveillance, Lagos has 27 contacts under surveillance.
"A total of 339 contacts, who were previously on surveillance, have been discharged having completed 21 days of observation.
"Port Harcourt has 477 contacts under surveillance. It is a mixed group consisting of tertiary and quaternary contacts of Mr Sawyer's.
"Five contacts have already been discharged from surveillance in Port Harcourt having completed 21 days of observation,'' he said.
Chukwu maintained that the total number of deaths from Ebola in Nigeria so far stood at seven, adding that five were in Lagos and two in Port Harcourt.
The minister put the total number of Ebola cases in Nigeria at 19 since the first case in Lagos 50 days ago.
He also made clarification on the report that Nigeria had taken delivery of body scanning machines from the U.S government.
Chukwu said what was donated to the Nigerian government by the U.S was 30 hand-held infrared equipment for use at border posts.
He appealed to countries not to stigmatise Nigerians on the account of the Ebola outbreak, noting that it was against international practice.
The minister said the Federal Government in collaboration with other stakeholders in the private sector was working hard to contain the spread of the virus beyond the Lagos and Port Harcourt.
In the same vein, the Information Minister, Mr Labaran Maku, sought the collaboration of all stakeholders in the national campaign against Ebola.
He said the media had a critical role to play in containing the spread of rumour and the eliminate discrimination against Nigerians on the account of Ebola.
The News Agency of Nigeria (NAN) reports that more private organisations have indicated interest to partner with the Federal Ministry of Health to fight the scourge of Ebola in Nigeria. (NAN)