As part of its environmental advocacy mandate, Earthplus is collaborating with the Dutch Ministry of Foreign Affairs to host Nigeria's largest virtual environment dialogue. The event will hold via the zoom video conferencing app on Saturday, October 10, 2020.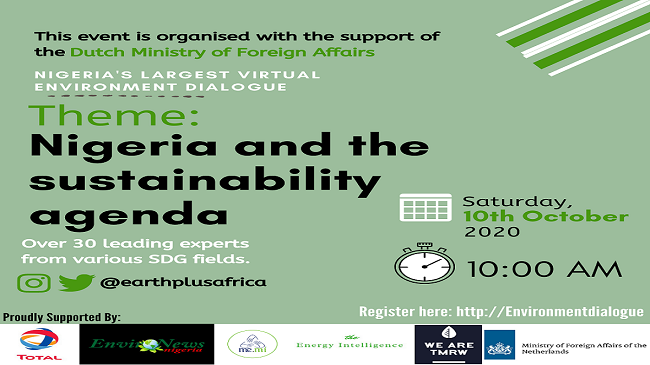 The virtual dialogue is themed "Nigeria and the Sustainability Agenda."It is expected to attract over 30 leading experts from four broad areas of environmental sustainability encompassing the SDGs 7, 9, 11, 12 & 13. It will also advance meaningful conversations around Nigeria's Nationally Determined Contributions (NDCs) of the Paris Agreement including its sectoral action plans.
"As a major contributor to greenhouse gas emissions in Africa, Nigeria is vulnerable to climate change impacts and severe environmental degradation. Being an emerging economy further complicates this vulnerability. This reality calls for concerted efforts to stem the tide of both current and future environmental challenges," says Caleb Adebayo Earthplus Team Lead.
Earthplus is organising the Environment Dialogue to achieve three key objectives, which are listed to include:
Raise awareness about Nigeria's Paris Agreement's Nationally Determined Contributions
Strengthen country ownership and promote buy-in for sectoral action plans for the NDCs
Articulate the roles of young people in revising and implementing the NDCs Sectoral Action Plans.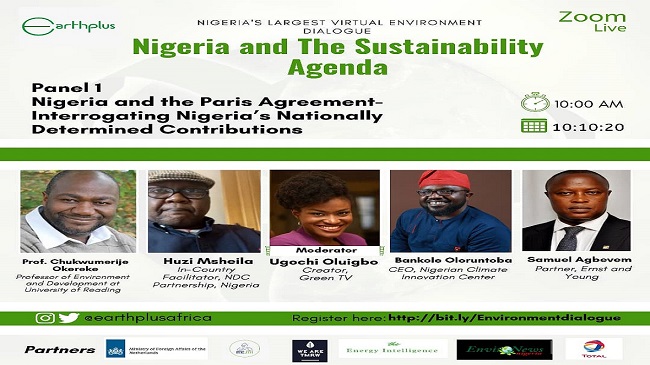 The event will feature a goodwill message by a representative of the Dutch Embassy and keynote address by Barrister Huzi Msheila, In-country Facilitator, NDC Partnership, Nigeria; two panel sessions and breakout sessions focusing on the Energy, Agriculture, Transport and Infrastructure and Production sectors. Award-winning environmental journalist, Ugochi Oluigbo of Green Angle TV, will be moderating the first panel session titled "Nigeria and the Paris Agreement: Interrogating Nigeria's Nationally Determined Contributions".
Scheduled to speak on this panel areProfessor Chukwumerije Okereke, Professor of Environment and Development at the University of Reading and Project Coordinator, Stakeholders Engagement for Review of Nigeria's NDC; Mr Bankole Oloruntoba, CEO, Nigerian Climate Innovation Centre; Barrister Huzi Msheila; and Mr Samuel Agbevem, Partner, Ernst and Young.
Climate Tracker and Data Fellow, Gilbert Alasa, will be moderating the second plenary which is going to be a Youth Dialogue titled "The Role of Youths in Nigeria's Sustainability Agenda". Sharon Chiamehen, Operations Manager, WasteBazaar; Alex Akhigbe, Executive Director, ACI; Yewande Seriki, Climate Change & Sustainability Professional; and Chiagozie Udeh, Global Focal Point for the UNMGCY, will be speaking on this panel.
Speaking about the upcoming event, Earthplus media spokesperson, Babatunde Osho, said, "At the event, we will introduce the We Are Tomorrow Global Partnership (WATGP) and initiate discussions to galvanise youth contributions to climate action and policymaking in Nigeria, using the partnership as a tool. WATGP is a network of youth-led organisations in nine countries working together to share knowledge and networks to drive bold climate actions and promote the importance of youth participation in the climate debate.
"The partnership is inspired by the Dutch Youth Climate Movement with the support of the Dutch Ministry of Foreign Affairs and The Netherlands Embassy in participating countries, which includes The Netherlands, Nigeria, South Africa, Uganda, Qatar, India, Mexico, Bangladesh and Chile. Earthplus is a partner organisation of the WATGP."
Other experts scheduled to speak at the sector-based breakout sessions include Segun Adaju, CEO of Consistent Energy; Mosunmola Umoru, CEO of Farmshoppe; Yemisi Ayansola, COO of Wecyclers; and Kunle Adebajo, CEO of Arup Nigeria.
Earthplus Sustainability Network is a global non-profit focused on the environment and sustainable development, especially in Africa. Earthplus was founded in 2015 under a desire for sustainable practices, lifestyles and development.
The Environment Dialogue is being organised with support from The Embassy of the Netherlands, EnviroNews Nigeria, Total and Energy Intelligence.
To register for dialogue, visit: http://bit.ly/Environmentdialogue