Maize farmers in Dadin-Kowa community of Yamaltu/Deba Local Government Area of Gombe State have said they recorded bumper harvest during the 2021/2022 dry season farming.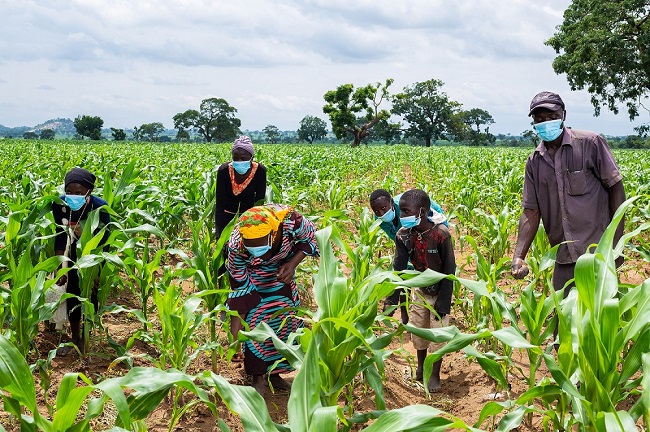 Speaking in Dadin-Kowa on Thursday, February 24, 2022, they said this was possible through the timely intervention of the Central Bank of Nigeria (CBN) in provision of inputs.
The maize farmers planted their maize seeds in November 2021 in the area.
Alhaji Adamu Tukur, the Special Project Coordinator, Maize Association of Nigeria (MAAN), Gombe State chapter, said that the yield was "impressive and highly encouraging".
Tukur said they were expecting at least 30 bags per hectare, which are about three tonnes, adding that 600 hectares are cultivated in Dadin-Kowa community for the dry season farming.
He attributed the high yield to use of improved seeds and the control of all factors of production associated with dry season farming.
He noted that dry season farming remained the best solution to boosting food security, especially in maize production, adding that CBN's intervention is timely and well-appreciated.
Tukur however said dry season farming was expensive; hence, the intervention of the CBN would help encourage all-year-round farming, create more jobs for youths and boost food security.
He said with the bumper harvest recorded in Dadin-Kowa and other communities in Gombe state, he was optimistic that this year's maize pyramid would be bigger than that of the previous year.
Tukur, who is also MAAN's coordinator for North East, advised youths to harness the water bodies for dry season farming by forming cooperative groups and embark on dry season farming for their benefit.
"There is money in agriculture, youths must open their eyes and invest here. The maize we are harvesting today is within three months and you can see the results.''
While assuring that loan repayment for the 2021/2022 dry season farming had commenced and would be successfully done, Tukur appealed to the apex bank for expansion of the programme to accommodate more farmers.
Also, Mr Abdullahi Isa, the Head, CBN's Development and Finance Office, Gombe State, who was on an inspection visit to the farm, described the programme as a "success".
Isa said CBN and MAAN's collaboration in this regard was a pilot scheme aimed at aggregating maize under the Anchor Borrowers Programme (ABP) of the Federal Government for the 2021 wet season.
He said the federal government's intervention in maize farming had yielded impressive results in view of the harvest and jobs so far created for youths.
Isa stated that CBN's intervention was to harness Nigeria's potential in the agriculture sector, conserve foreign exchange, boost food availability and reduce unemployment among youths while discouraging food importation.
"This is the pilot scheme that we did and here in Dadin-Kowa we have cultivated about 600 hectares, while in Nafada we have 400 hectares," he said.
The CBN official said over 1,000 hectares were cultivated for maize during the dry season farming in the state and "we are planning to take it to over 1,500 hectares".
"From all indications, the harvest is impressive and this will give us the encouragement to do more."
He advised the youths to venture into agriculture, adding that in CBN "we have so many schemes that the youth can engage in that will benefit them and their households''.
By Hajara Leman