The World Alliance for Mercury-Free Dentistry has announced its "First in Africa" award to Dorah Swai of Dar es Salaam, who works for the renowned Tanzanian non-governmental organisation (NGO), AGENDA.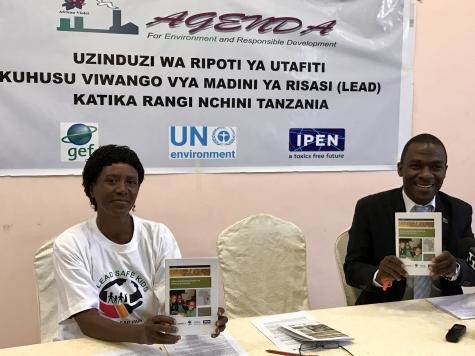 "Tanzania is the first country in Africa to have mercury-free dentistry," said Charlie Brown of the World Alliance for Mercury-Free Dentistry in Washington.
"The quite challenging multi-year campaign to set a deadline for use of toxic mercury in this great nation was engineered by Dorah Swai of the NGO 'AGENDA.' The World Alliance is deeply appreciative of Dorah. We give this unique award to recognise her years of arduous service for the people and environment of Tanzania and the entire continent," he added.
Ms. Dorah Swai has been working in the fields of environment and social management for over 20 years in government, private companies, and now in AGENDA.
"It's been an honour to work alongside Dorah and under her leadership for several years," said Bernard Kihiyo of the Tanzania Consumer Advocacy Society. "It had been a long journey which required hard work, tolerance, flexibility and persistence, that involves working with a diverse group of stakeholders in dentistry, in government, in academics and with other non-governmental organisations. Dorah navigated it all to acquire this level of success…. Bravo."
From 2014, Dorah has been leading the campaign for phasing out dental amalgam in dentistry in Tanzania. She is doing so to complement the implementation of the Minamata Convention on Mercury in Tanzania. The initiative involved working with key stakeholders including the government, Non-Governmental organizations with and outside Tanzania, Consumer organisations, Academicians, and Media.
"Dorah is an environmental leader, and AGENDA is one of the best NGOs in the world," said Griffins Ochieng of the African Centre for Environmental Health in Nairobi. "We are proud that our East African neighbor Tanzania is transitioning fully to mercury-free dentistry, and we salute my friend Dorah for leading the way."
Brown paid tribute to two leaders that started this initiative, Dr. Msafiri Kabulwa of the Chief Dental Office of the Tanzanian Ministry of Health, and Professor Jamidu Katima, founder of AGENDA and the dean of African NGO leaders.
"First Msafiri, then Jamidu, started this process nine years ago – the challenge of transitioning dentistry and building consumer empowerment was formidable," said Brown.
Swai is amongst the long-serving AGENDA staff team, with which she has been working hard to foster the AGENDA's vision which is to ensure socio-economic development is attained equitably to all without causing adverse effects to human health and the environment.