Professor of Agronomy at the Nasarawa State University, Keffi (NSUK), Ibrahim Haruna, has called on the three tiers of  government and farmers to adopt Climate-Smart Agriculture (CSA) practice to mitigate the impact of climate change.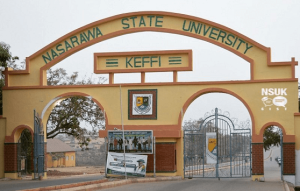 Haruna made the call on Wednesday, August 30, 2023, at the university's 33rd inaugural lecture held in Keffi Local Government Area of Nasarawa State, where he spoke on "Climate-Smart Agriculture (CSA): A sure means to sustainable crop production in a changing climate".
According to Haruna, climate change is the greatest menace that limits sustainable crop production.
"Hence, the need for farmers to adopt CSA practices so as to reduce the deleterious effects of climate change for sustainable crop production to ensure food security.
"A changing climate can cause several damages that cannot be quantified but Climate-Smart Agriculture can be a potential way out in different regions of the world to increase agricultural sustainability and resilience to climate change," he said.
Haruna described CSA as practices and technologies that sustainably increase productivity, support farmers' adaptation to climate change and reduce greenhouse gases.
The don said: "CSA has three pillars namely: Food security, adaptation/resilience and mitigation. It can also help governments to achieve national food security and poverty reduction goals."
Haruna listed the CSA practices to include Mulching, organic manure and crop yield, agroforestry, intercropping, crop rotation, inorganic fertilizer and crop production.
Others include: Combined use of organic and inorganic fertilizer, use of quality seeds and planting materials of well adapted crops and varieties and irrigation.
He, among other recommendations, called on the Federal Government to align and support climate-smart agriculture practices with a national policy and a legal and regulatory framework.
"Policies and legislation affecting seeds, inputs, finance, credit, insurance, land tenure and a range of other areas, all have scope to help or hinder the uptake of climate-smart agriculture," he added.
In his address, Prof. Suleiman Bala-Mohammed, Vice-Chancellor, NSUK,  described the topic as apt, as it dealt with trending issues of food security both at the local and international levelS.
"I am very delighted that he picked a topic that is very relevant today. The topic is very apt and contemporary as we are battling with the issue of food security and battling the question of hunger.
"It is very important that we have some of these new dimensions that we can take and ensure food security in Nigeria.
"I therefore appreciate the inaugural lecturer for selecting this topic and working to give us insights and information on this topic," he said.
By Olukayode Babalola